Yesterday, I taught sex education at a University. After announcing that they could 'ask me anything' I was approached by two young men. Laughingly, they mentioned that they were frustrated at the speed at which they ejaculated during masturbation. Their tone was light and jokey, but it was clear that this was a subject that they wanted more information about. This also brought my attention to another event that I spoke at, in which a similar question was raised by a member of the audience. The industry that researches and distributes products to delay ejaculation is a billion-dollar industry and quite often, they rely on products that desensitise the penis. However, there are other ways to last longer in bed without compromising on pleasure.
What is premature ejaculation?
Premature ejaculation occurs when a man orgasms very soon after sexual activity, and with minimal physical stimulation. There is no cut off point to when ejaculation is classed as 'premature'. However, some experts say that anything between 15 seconds to 2 minutes after beginning sexual intercourse can be deemed as 'early, or rapid ejaculation'. That's not to say that this is always a problem, but for some men it can be embarrassing. In my experience, many men who do feel that they last a reasonable time in the bedroom are also seeking ways to last longer in bed, and why not? Longer lasting sexual pleasure is a win/win situation for everyone involved.
Current products available to help you last longer in bed
There are primarily two methods to help you last longer in bed; psychological solutions, which help to target worry, stress and other mental reasons that may impact on your ability to last longer in the bedroom. Whilst physical solutions such as lotions, creams and pills help to target the sensations felt during sex, to help you last longer. For those who simply want to satisfy their partner for longer, physical solutions such as benzocaine sprays and creams are one way to prolong ejaculation. However, because they work by numbing the sensations that you feel during sexual activity, users have reported losing too much sensation, which can affect their ability to maintain an erection altogether.
For those who prefer a product that can delay ejaculation without resorting to desensitising agents like lidocaine and benzocaine, Bathmate Control is a water-based numbing agent that is placed directly onto the head of the penis to delay ejaculation and increase stamina in the bedroom. Unlike, products that use ingredients to numb the penis, Bathmate Control uses natural ingredients that work with the body to create a longer lasting performance in the bedroom, without the unnecessary side effects. Bathmate Control is easy to apply, the effects are long lasting and it's PH balanced, so it's kind to the skin. Even better, because it doesn't include agents that desensitise, Bathmate Control doesn't numb your partner either, so you'll both have a great time.
To get started, simply add a few drops to the head of the penis approximately 30 minutes before engaging in sexual activity. Bathmate Control feels soft and silky against the skin, and because the ingredients are natural and gentle, they don't cause irritation or stain the bedsheets. After use, the product simply washes away.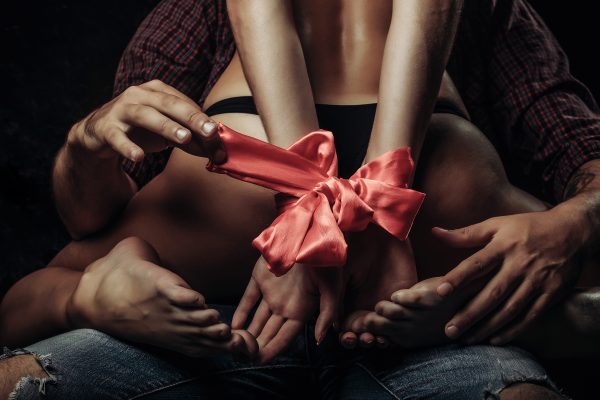 Lasting longer in the bedroom, naturally.
A study on heterosexual couples found that they normally last around five minutes during penetrative vaginal sex. For men who have sex with men, the timings were even longer. There are several ways that you can last longer in the bedroom without compromising on pleasure. With this in mind, we highly recommend penis pumping as a means of creating a long lasting erection that will satisfy both you and your partner.
A hydro penis pump, like the Hydromax X30 is perfect for use in the bath or shower. Discreetly pump as you undergo a general pre-sex bath, or enjoy an afternoon of foreplay in the shower and ask your partner to get involved in the action. Fill the pump with water, before inserting your flaccid penis into the chamber and make a seal around your penis. If you're a beginner to penis pumping, the Hercules is the perfect starter pump because it is very easy and safe to use, whilst the results are fast and long-lasting. Simply continue to gently pump the unit until your penis is engorged, checking your progress in the measuring gauge on the side of the pump. The pump works by increasing the blood flow into the penis to create an erection that is bigger, stronger and lasts even longer, thus increasing your stamina in the bedroom.
Using penis pumping in the bedroom means that you are effectively using the tools that you already have in your body, for example blood and your own natural attributes, to create an erection that can penetrate even deeper into your partner but with a lot less effort. The use of a power ring also helps the penis to stay engorged without losing the erection, so you can continue to enjoy an extended pleasure session, even after you have climaxed. For best results, get to grips with the Hydromax X30 during masturbation before experimenting with a partner. That way you'll know exactly how the product works and can master the techniques required to create a longer lasting erection.
Happy shoppers have also reported that regular use of the Hydromax X30 has resulted in a permanent increase in the length and girth of their penis. Although we can't make any guarantees, penis pumping is the perfect tool for those also seeking to enlarge their penis without resorting to expensive and dangerous surgery.