The second most common intimate issue for men, Premature Ejaculation is a bit more complicated to pin down than most other conditions.
In a technical sense, there's a basic explanation for what PE is: reaching orgasm before you want to.
Think about that for a second, though…
There's plenty of people who don't last as long in bed as they'd like to, but who would never consider themselves to be suffering from premature ejaculation – maybe just a lack of stamina.
For some, the case is quite different – despite lasting longer than average, many believe that they're underperforming sexually, not lasting as long as they want to. Both of these groups could be considered to be suffering from Premature Ejaculation, but that's not a label that everyone would use.
Like a surprising number of sexual uncertainties, it all comes down to a lack of genuine communication and knowledge. It's virtually always going to be possible to beat Premature Ejaculation, enhancing your sex life and fulfillment.
First, let's take some time to sort out a real-world definition for PE.
Defining Premature Ejaculation
On average, once foreplay's taken out, sex lasts about five and a half minutes.
That's going to seem pretty low to some, and concerningly high for others. Keep in mind that it's pretty hard to accurately guess how long something lasts (especially when your mind's elsewhere). Maybe don't bring a stopwatch into the bedroom next time, but do be aware of how long you last on average.
Given how long the average sex session lasts, it's fair enough to define Premature Ejaculation as frequently reaching orgasm within one or two minutes of actual penetration. That's not quite the full picture, though.
How Long Do People Want Sex To Last?
While it depends on personal taste, the average woman believes that 7-13 minutes of penetrative sex is perfect, while over 30 minutes seems excessive.
While there have been fewer full-on studies, gay men tend to have (and prefer) longer-lasting sex, but there's not a particularly huge difference.
So, while your partner's preferences might be completely different, understanding the average gives you something objective to aim for.
Winning Against Premature Ejaculation
Try switching things up. Carry on longer with foreplay. Take things slowly rather than rushing in at full speed. Try more oral, and do everything you can to destress.
Unfortunately, that's not quite enough for Premature Ejaculation. Fortunately, it doesn't have to be – there's far more ways to achieve a more fulfilling sex life. You might want to talk to your doctor if the condition is particularly severe, but here's some practical ways to win against PE:
Delay Gel:
Over the last few years, this product (available under a whole lot of brand names) has become a lot more popular for those affected by PE. Essentially, most delay gels numb sensations in the penis, immediately letting you last longer in bed.
Unfortunately, some gels, particularly those containing Lidocaine and Benzocaine, tend to numb sensations in the penis completely. This means that although you can last longer, you're probably not going to feel anything.
Kinda defeats the point right?
There are, however, some all-natural delay gels out there that offer the ability to hold back your ejaculations…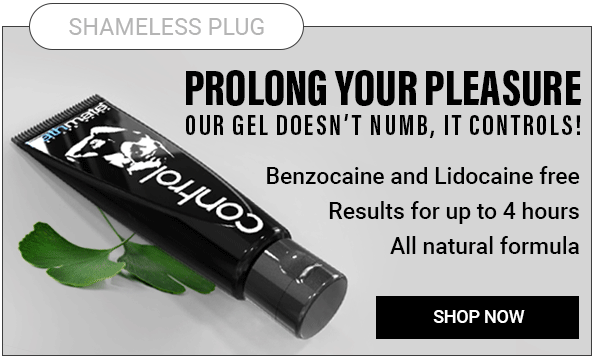 Alternate Positions:
While you may have a preferred couple of positions in bed, there's some positions that can help you last longer than ever.
While it may seem unusual, any position with your partner in control can help with PE – they'll find it a lot easier to pull away when you're close to orgasm than you will.
PE Medication:
There are several types of drugs used to counter PE, which can help you completely overcome the condition in some cases. But these drugs don't work for everyone, and can have severe side effects.
For PE, there's another issue. Much of the medication was designed to treat depression, not specifically for PE. This might not seem like a problem, but it means that taking the medication can have a negative effect on your mental health. As always, talk to your doctor before using these.
Tactical Masturbation:
While this definitely won't be for everyone (and I'd really advise against it on a night out), masturbating to completion about an hour before you have sex can work wonders for your PE.
Post-orgasm, you'll naturally have less sensitivity in your penis, letting you keep going for longer than ever before.
Conversation and Calmness:
In many cases, premature ejaculation is at least partially caused by psychological issues.
Being able to relax during sex, and talking to your partner about their desires can both make a genuine, lasting difference for PE.
Kegel Exercises:
Kegels aren't just for women – these powerful exercises will give you more control and lasting power in bed by directly working out the muscles of the pelvic floor.
If you're not already doing the exercises, you absolutely should be.
Penile Health Training:
We've saved the best to last…
While the benefits of the workouts are somewhat self-explanatory, Bathmate's effects on Premature Ejaculation may be a little less obvious.
By providing a full workout for the penis in the bath, shower or air, Bathmate applies pressure across the entire penis, without the intense pleasure of sex, which may help build up resistance and last longer.