Can food make you a better lover? You will all have heard about aphrodisiacs and how they can help you get into the mood, but how and why does this happen?
By eating foods that boost your libido, blood flow, sex drive or energy levels is it possible to eat your way to being a master in the bedroom?
Food is the fuel our bodies need on offer to operate on a day to day basis, without food we would cease to exist, is it possible to eat healthy foods that increase your sexual performance? Yes, of course it is! With some simple research and a little planning you can find a balanced diet, or include certain foods into your current diet – that will have you outperforming the porn stars in no time! Let's look into which sexually healthy foods are out there and the benefits they bring to our sex drive.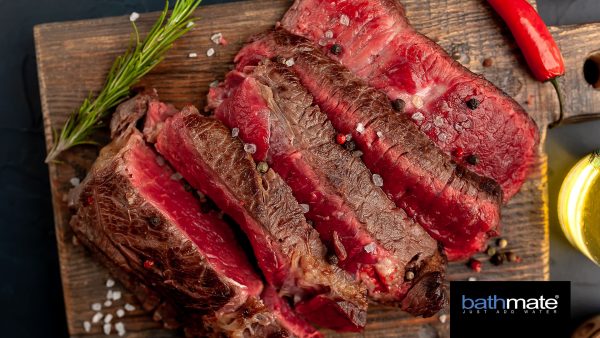 1. Meat
It is not even a surprise that meat boosts our libido! You can choose from many different kinds of meat: beef, chicken, duck, mutton, turkey, venison, and pork – they contain carnitine, L-arginine, and zinc.
Carnitine and L-arginine are amino acids that takes care of our heart and blood flow. Healthy heart and blood flow is one of the most important things in both men and women's sexual life. Better blood flow equals better erections and more sensitivity. It is healthy to eat meat but you need to remember about moderation – avoid heart diseases. What is the healthiest way to prepare meat? Roast it slowly and serve with raw salads or cooked veg to get a lot of vitamins and nutrients.
2. Shellfish
One of the best protein sources ever and also a top aphrodisiac. Prawns, oysters, lobster, crab, clams, and scallops contain compounds that raise testosterone and oestrogen levels. It means that our libido is boosted. Oysters also contains a huge amount of zinc that takes care of our sexual organs in both men and women.
3. Fish
Salmon, tuna and halibut (oily fish) are the best source of healthy omega-3 fatty acids. Fish are crucial when we talk about boosting our sex life with food. Omega-3 fatty acids improve the blood flow in our body.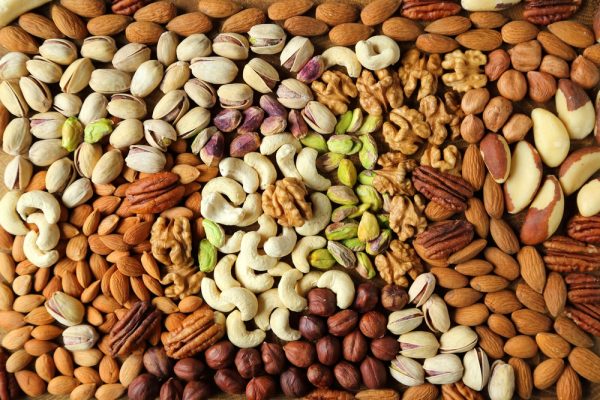 4. Nuts
Peanuts, pecans, walnuts, brazil nuts, macadamia nuts, sunflower seeds, hazelnuts, almonds, pumpkin seeds and cashew nuts. Cashews are the best source of zinc, almonds are a wonderful source of proteins while every single nut contains L-arginine to get your blood flowing.
5. Red wine
Everybody knows that red wine is one of the best aphrodisiacs ever – but it is not the only benefit. A glass of red wine helps us with getting in the mood, increases sexual desire and lubrication in women. The key is quercetin – a polyphenol and an antioxidant.
6. Apple
Yes, an ordinary apple can help boost your libido and takes care of sex life too. As we said above, quercetin is an antioxidant and also a flavonoid which is the key. In the case of sexual health, quercetin controls symptoms of prostatitis and interstitial cystitis (IC), and it promotes circulation. You can read our article about prostatitis here – it is an inflammation of the prostate. It sometimes causes testicular discomfort and pain with ejaculation.
7. Flax seeds
Flax seeds are tiny…but very powerful – full of antioxidants that increases blood flow to the sexual organs. Flax seeds make you feel vibrant because of the lignans that they contain. Lignans are chemicals that have antiviral, antibacterial, and anticancer properties. We can say that it works sort of like a natural Viagra for women. But these are not only benefits of flax seeds. What other benefits do they have? Omega-3 fatty acids that improve your cardiovascular health – the key point of libido and sexual potency, l-arginine – an amino acid that boosts blood flow and helps keep sperm healthy. A great source of health for both men and women.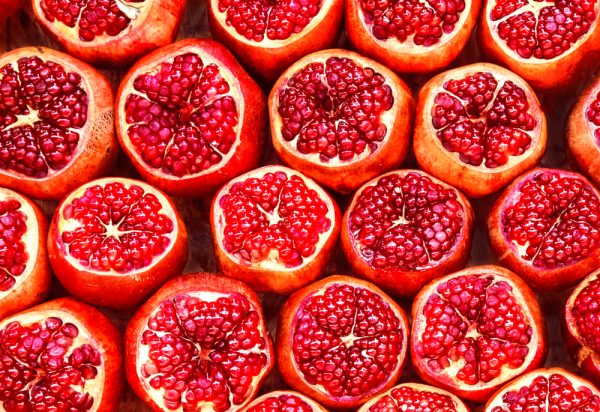 8. Pomegranate
Pomegranate seeds are full of polyphenols. Polyphenols reduce risk of high blood pressure, heart disease, stroke, they improve blood vessels and increase the delivery of blood to the brain, sex organs and heart. Pomegranate gives us more than you can ever guess: polyphenols, as we mentioned, also protect immune system and make you feel happy and positive, micronutrients, help producing sex hormones, flavones helps with erectile health and finally vitamin C decreases stress and gives stamina.
9. Avocado
Dear men, this is an important fact for you – avocados are really good for your testicles and sperm. Avocados are full of vitamin E. It is a key antioxidant that widens blood vessels, so it helps to prevent cardiovascular disease. They are also a source of vitamin B-6 that helps keep your nervous system ticking over, potassium – boosts your libido and the best – energy monounsaturated oleic acid that helps circulating blood and makes your heart health better over time.
10. Chili peppers
Jalapeno, serrano, poblano, facing heaven pepper, chile de arbol, anaheim pepper, birds eye chilli, and many, many different other ones. They all share one main benefit together – capsaicin, it makes you feel hot, increases your heart rate, mirrors signs of arousal and releases endorphins. Chili peppers boost your metabolism, your libido and they will also help get you in the mood for the whole night.
11. Ginger
Ginger is one of the best and useful spices in the world – sweet and spicy. Ginger improves your sex life not only because it warms you up but also by taking care of your blood flow and artery health. Try to have ginger at least twice a week for a healthy, hearty kick – and reap the benefits of this amazing spice in the bedroom!
12. Beetroot
Beetroot is a vegetable that contains a secret weapon – nitrates – it will boost the blood flow to your lower regions! And also increases overall blood flow. Nitrite relaxes those parts of our body that have smooth muscles – including the anus, the urethra and the iris of the eye. This is the best food type for those who like anal sex – nitrite makes for easier penetration during anal sex.