Prostate cancer
In the UK, 1 in 8 men will get prostate cancer at some point in their lives. For those who haven't heard of it, prostate cancer is the 2nd most common cause of cancer death in males, accounting for 13% of all cancer deaths in males living in the United Kingdom. At Bathmate, we recognise that this type of cancer affects lots of people , and that's why we are raising money for Prostate Cancer UK.
The Leeds March for Men is a charity walk that is taking place to raise funds and awareness for Prostate Cancer UK, the leading charity for Prostate research and support. Our team will be walking 10k on June 23rd in support of those affected by Prostate cancer, and we need your help. By sponsoring Bathmate on the Leeds March for Men, you are helping us wage war on prostate cancer by raising awareness of the signs of prostate cancer, improving the welfare of those diagnosed with prostate cancer and helping to fund important research.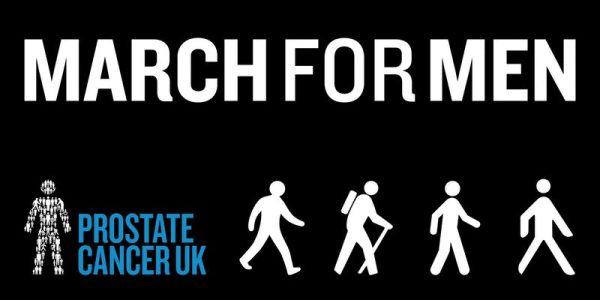 What is prostate cancer?
The prostate is a small gland located underneath the bladder and its main role is creating the semen that you ejaculate when you orgasm. Prostate cancer starts to develop when the cells in the prostate start to grow in an uncontrolled way. If the cells spread outside of the prostate, they can cause cancer in other parts of your body too.
What are the signs of prostate cancer?
The early stages of prostate cancer have very few symptoms, so many men are unaware that they have it. One reason for this is the way the cancer grows within the prostate. If the cancer is growing close to the tube that you urinate through and presses against it, this can cause difficulties when going to the toilet for a wee. However, if the cancer grows in a different part of the prostate, it may not press on the urethra and the person will remain unaware that they have it.
By helping to raise awareness of the risk of having prostate cancer, the team at Bathmate hope that you understand your individual risk, and your prostate checked.
Those who have a higher risk of developing prostate cancer include:
• Older men
• Men with a family history of prostate cancer
• Black men
Some of the symptoms of prostate cancer may include:
• Difficulty urinating or emptying your bladder
• Difficulty when starting to urinate
• Feeling unable to fully empty your bladder
• A weak flow when urinating
• Dribbling urine after you have finished urinating
• Needing to urinate more often, particularly at night time
• A sudden urge to urinate, sometimes causing loss of bladder control
Not all men will show no symptoms of prostate cancer, and not all the symptoms highlighted mean that you have it. However, it is important to have your prostate checked by your Doctor if you
have any concerns.
How can you help to raise awareness of prostate cancer?
Help to raise money and increase awareness of prostate cancer by sponsoring Bathmate in the Leeds March for Men on the 23rd June 2018. You can sponsor us by clicking here.