Imagine one of our Cro-Magnon ancestors in the privacy of his cozy cave home. He lifts his animal hide loincloth and frowns at what he sees. Grog wonders: Is penis normal?
It's the question as old as time.
To just about every dude out there, a penis can be a source of pride, joy, shame, and stress. For a piece of your body that legally has to remain covered in the general public at all times, there are a lot of weird social expectations surrounding your manhood, not to mention a ton of misinformation.
Let's take a look at some real penis facts, including the lowdown on average girth, length, and whether any of it really matters anyway.
How Big is the Average Penis?
Despite what the porn industry would have you believe, the average penis is a lot smaller than you might think.
Researchers from the British Journal of Urology studied the penis sizes of 80 men, weeding out guys with any type of penis abnormality, erectile dysfunction, or men seeking penis enlargement. According to the study, the average penis size is 5.1 inches when fully erect.
When flaccid, the penises in the study averaged about 3.5 inches. The researchers found no correlation between the size of the penis when flaccid and growth during an erection.
However, a 2013 American study had slightly different results, with an average length of 5.6 inches. This discrepancy could be due to the fact that men were self-reporting their own penis sizes (ahem, gentlemen), but they were held at least somewhat accountable by being given a condom to match their reported length and verifying that it did, in fact, fit correctly.
In this study, the method used to achieve erection had a direct impact on maximum penis length. Men who recorded their measurement after receiving oral stimulation reported larger penis sizes than those who self-stimulated. Measurements ranged from 10.3 inches to 1.6 inches long, with only two to five percent having a penis longer than 7 inches.
The average girth of a penis is surprisingly not much shorter than the length, measuring in circumference at 3.7 inches flaccid, and 4.6 inches when fully erect.
Though the length of a flaccid penis wasn't normally a good predictor of erection length, it could be when fully stretched. However, the accuracy of this statistic varies based on the willingness of the researcher to really pull on the subject's penis to the point of discomfort, which was necessary to get an accurate measurement.
There appeared to be no correlation between penis size and characteristics like large hands or feet. The only outward factor that could potentially be a predictor was height, and even then, that's not exclusively the case due to the evolutionary premise that women are more likely to mate with men who have larger penises in their genetics.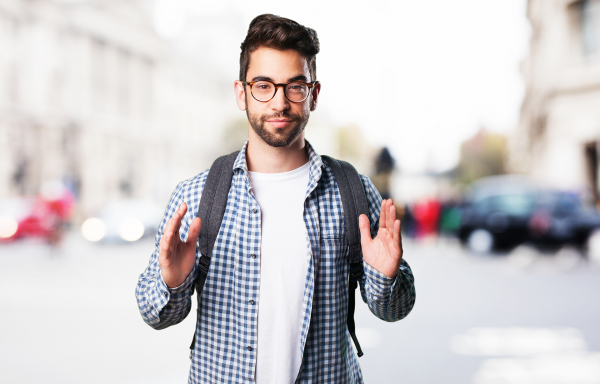 Does Any of This Really Even Matter?
The good news is that, particularly if you're in a relationship, the size of your penis likely matters to you a lot more than it matters to your partner.
A 2006 study of over 50,000 men and women showed that 85 percent of women reported being happy with the size of their partner's penis, whereas only 55 percent of men feel satisfied with their own members.
Women are more negatively affected by excessively large penises, which can hurt like crazy when rammed into a tender cervix. They agree that there is a sweet spot somewhere in the middle and that most men are far too worried about the size of their junk. When it comes down to it, it's far more important that you know what you're doing in bed than whether or not you're sporting a massive schlong.
The only time this may not be the case is during hookups. The consensus of women who are on the prowl for one-night stands is that bigger is often better, if only for the "wow" factor when it comes time to spill the proverbial tea to their girlfriends.
Most women do, however, report that average girth is more important than length. This may be due to the fact that during penetration with a penis that's larger around, the vagina is stretched and the clitoris is closer in proximity to it, resulting in increased orgasm potential. However, even if your penis is smaller than average, all is not lost when it comes to penetration; the G-spot is located an easily-accessible two to three inches inside the vagina.
Okay, but I'm Still Not Happy With My Penis. What Should I Do?
If you STILL aren't thrilled with the size of your rod, you aren't necessarily doomed to a life of dissatisfaction and penis anxiety.
The quickest way to make your junk look bigger (especially when erect) is to make sure you stay on top of your manscaping efforts. Trimming back your pubic hair can create the illusion of added length in an area where every little bit counts.
Losing weight can make your penis appear significantly larger. When you're packing extra pounds, an inch or two of padding can accumulate on your pubic bone. Once you work that off, your penis could appear an inch or two larger with no extra effort.
Using a penis pump give your little guy a great boost if a temporary one. A pump uses suction to draw blood into your wang, and basically gives you a giant hickie, minus the weird bruising and judgmental looks. However, steer clear of air pumps, which can cause injury due to uneven pressure when pumping.
If you want to give a pump a try, go for a hydro pump. These use warm water instead of air to increase blood flow, and won't create a potentially dangerous vacuum around your tender bits. This will help you achieve a harder, fuller erection without posing a hazard to your penis health. If you're of small or average girth, this can help plump you up where she wants it the most.
As long as there are men in the world, there will be questions about whether or not their penises are adequate. Knowing the facts can help alleviate your insecurity so you feel confident about your manhood.
Check out our page to find out how just adding water can make a difference in your sex life.