Gentlemen, today's society has changed in some amazing ways. The internet has allowed us to get together across the planet, self-driving cars are becoming the norm, and us men are finally accepting that we should be taking care of our entire body.
Gone are the days of using Lava bar soap for every inch of the body assuming that heavy scrubbing and scraping meant proper skin care. Now there are oils, creams and masks for nearly every part of your body made specifically for men.
With so many options flooding into the aisles previously only boasting razors and deodorant, it can be intimidating to walk up and start perusing the new wares. To help make things easier, let's take a look at the basics and get you started on a proper manscaping routine.
The Positive Changes That Led Us Here
Manscaping as we know it is a far cry from what it was even a few years ago. Current availability of men's grooming items is thanks to waves of market and societal progression over the decades. A mix of a more accepting view on individual preference as well as the removal of negative assumptions towards men who take care of themselves has created a new enterprise.
Now you can find high-end beard oils and straight razors at Target or inside Ulta, a store that previously only sold cosmetic and skincare items for women. With the adoption of social media, the female market quickly became flooded with new cosmetic brands left and right. Companies saw this and began tapping into the male market, finally creating commercially available products we can afford.
The push for healthier lifestyles is another key component in modern manscaping acceptance. It's not about chasing perfection. Instead it's about working what you've got and taking care of it along the way. Nothing's sexier than confidence and believe it or not, a daily skin routine can help pile it on.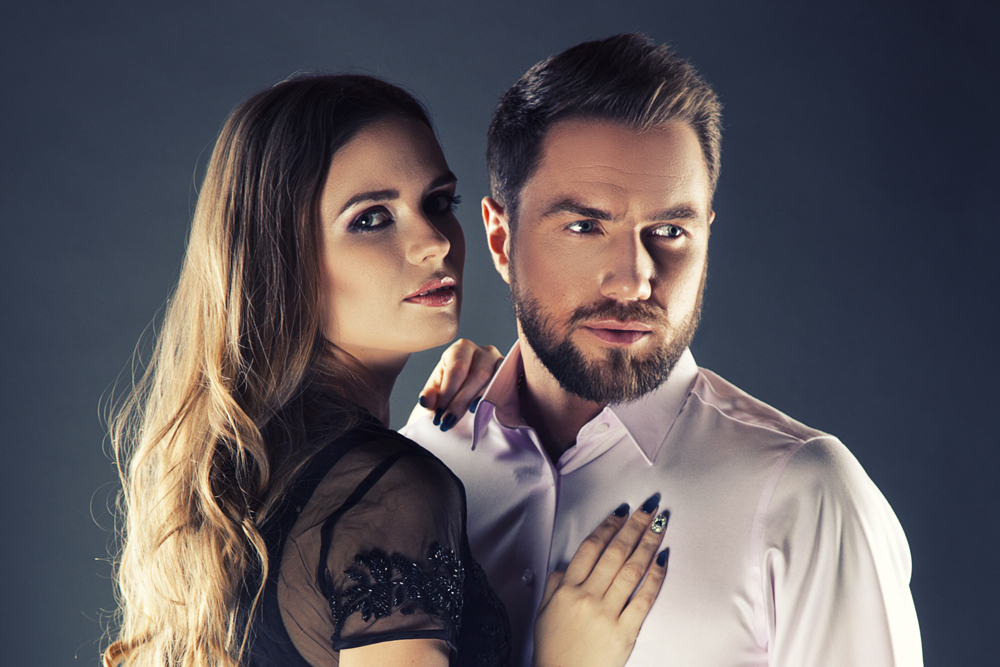 Get Better Skin and Hair Across the Board
Let's start off by making a quick distinction here. The skin on your face is vastly different from the rest of your body and has its own products to use. Unlike skin on the arm or knee, the face doesn't experience as much trauma throughout the day and is thinner and much more sensitive.
One other thing you should know is that facial hair and your regular hair also have different needs. Whether you like to think about it or not, facial hair is still pubic hair along with the hair in your pits and bits.
Let's Start Up Top With Your Hairstyle
The uproar about the man bun has come and gone, entering the norm for men's hairstyles. What this did was open up a world of options for men to explore and getting a proper haircut should be the priority. It doesn't matter how many products you buy if the hair isn't working to begin with.
After you've finished up with the barber or stylist, it's up to you to maintain their good work. Thankfully our bodies do a great job keeping our hair naturally healthy, but it's a balancing act. Let it build up too much and you start getting that slovenly look but clean too often and the hair will become dry and brittle.
On top of that, your scalp is also extremely vulnerable to getting dried out due to washing your hair too frequently. A dry scalp leads to dandruff, a harmless but unsightly flaking of the skin. While there are specific shampoos and serums for dry scalp, most men can avoid it by just not washing their hair daily.
Time for Your Hair To Get Dressed
Thankfully men's hair products are made to last with most gels and pomades needing only a small amount to work for an entire head of hair. A pea-sized portion should get most men by but should still be a starting point to those with longer hair.
When it's time to apply the product, please stay strong and resist the urge to run your fingers through the front of your hair like a greaser slicking back their mop for the drive-in. Start from the back and work forward to avoid a clump of hard gel turning you into a modern Elvis, unless that's what you're going for.
Add some heat to the mix for different looks. If you've already grown your hair out, try straightening it or adding some waves. Warming up product before applying it is another way heat helps. Simply rub your pomade between your palms for a few seconds and it'll work into your hair much more easily.
Now To Take Care of That Rugged Face
If you're anything like us, your previous version of taking care of your skin involved a 27-in-1 bottle in the shower that claimed to be for your hair, body, face, dishes and car. Not only do these dry out the more sensitive patches of skin, it can leave your face feeling tight.
To recover from this state, it's vital to start using a face lotion or moisturizer during your daily routine. The skin will gladly drink up the moisture and help create a stronger, healthier barrier against the elements. Bonus points for using a lotion with SPF as protection against the sun can't be overlooked.
Serums are the next step up from moisturizers and target more specific areas such as wrinkles or pigmentation. That being said, there are more general use serums that don't leave behind any residue or grease some moisturizers do.
Remember That Your Face Is Sensitive
Think back to the Lava soap from earlier. Each bar was packed full of pumice, ideal for scrubbing through tough grease and motor oil. Not the oils found on your face which pose much less of a challenge when it comes time to wash away.
Make sure you're cleansing your face every day with a gentle face wash, but save exfoliating for the weekends. Scrubbing your face red makes it more sensitive and leaves it exposed to the sun and wind. If you can't shake the feeling that your face is still in need of something, try a mask instead.
Face masks are like apps, there's one for anything you could possibly need. Since a mask consists of leaving a certain product on your face for a long amount of time, nearly every type of skincare has a mask version. They range from thin refreshing sheets to pore penetrating charcoal masks you slather on and peel off to really clear the pores.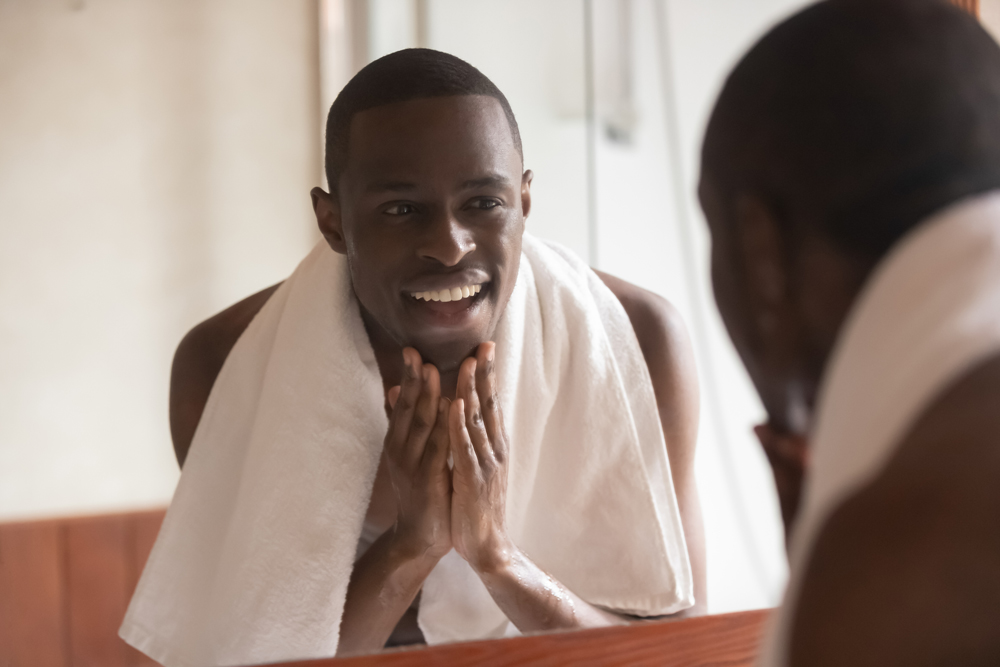 Back to Hair One More Time
We've made our way to the bottom, and sides, of the face to wrap up a basic manscaping routine. Today a man can be just as dapper rocking a full beard or a clean shave so long as it's done right. Take advantage of this opportunity to try something new.
Taking to the streets with a smooth face to show off your jawline can garner stares all around. Make sure they aren't staring at red, irritated skin plagued with razor bumps. You'll soon discover that a well-maintained straight razor is the quickest and most precise option and leaves the skin less irritated than its multi-blooded counterpart.
After the shave you'll want to use an oil or balm meant to soothe the skin. While the razor opens up the skin to better take in moisturizers and serums, it also leaves the skin dry and itchy. Hone your skills and soon you'll have a deft hand that produces a perfect shave in moments.
Now for Our Bearded and Mustachioed Gentlemen
There's only one wrong answer when it comes to facial hair and that's poor grooming. Obviously everyone will look best in certain styles, but as long as you're happy with it and it's done well then that's what counts. Just look up beard contests if you're ever worried about trying a new facial hair style.
Mustaches are much more easily maintained compared to a beard. Beards have their own shampoo, oils and brushes to properly care for them. Surely there are tiny mustache brushes but typically you'll be just fine applying a good oil to the hair and underlying skin.
That just about wraps up the pillars of manscaping the right way. The key takeaways should be:
Use the right product for the job
Only clean as necessary but moisturize daily
Dry is bad, moist is good, oil is subject to interpretation
Really as long as you don't treat your body like a car in the sense that any tool that works can be used, you should be just fine. Taking care of your skin and hair completes the trifecta of self-care; regular exercise, proper diet and daily skin/hair care. Now go enjoy your new lease on life and treat yourself to a nice face mask or your first exfoliating scrub.