Ready to dip your toes into the world of penis pumps, but keep getting cold feet? Well, here are five reasons to dive right in — the water's fine!
1. Better Erection Quality
You know what they say about physical fitness: Use it, or lose it!
The same can be said for sexual function. Your manhood is made up of up to 60% smooth muscle tissue, and, like any muscle, it grows or shrinks depending on how often you put it to use. That means that every time you get a stiffy, you help maintain the strength of the penis
We refer to Bathmate penis pumping sessions as "workouts" for this very reason — because that's exactly what they are. If you think of every erection as like a mini press-up for your prick, then your Hydropump is like its personal trainer. Every time your pump engorges your erectile tissue with a powerful rush of oxygen-rich blood, you're essentially exercising your penis, priming it for peak performance. Improved blood circulation also helps clear away any accumulated toxins, keeping your cock in tip-top condition.
After just two months, 92.9% of HydroXtreme users report better erections. But unlike the artificial pills and potions many men resort to, our Hydropumps are 100% drug-free, are manufactured in an FDA inspected facility and work almost instantly. That means you'll be up for anything at a moment's notice naturally, without any unpleasant side effects.
2. Hotter Sex Life
With porn setting the gold standard for penile proportions and performance these days, it's not too huge of a shock that more men are hung up on how well they're hung than ever before. And, with performance anxiety at an all-time high, men are equally worried that they'll be a downer — literally — both to their partner and themselves.
Erectile dysfunction can often be blamed on physiological problems, like high blood pressure, diabetes, or hormonal imbalances. But it can also be 100% psychological. Everyone jokes that the penis is a man's "second head," but your state of mind has a powerful effect on your sexual functions. Your ability to gain (and maintain) an erection goes up and down depending on your mood. Depression, anxiety, stress, and even lack of confidence can all determine whether or not your stiffy stays the course — or if it even shows up in the first place!
No matter where your head's at in the heat of the moment, Bathmate can take a load off your mind by boosting blood flow to your penis, giving you an erection.
You'll get off to a strong start, with the staying power to take you straight to the finish line. This means you'll be able to enjoy pleasuring your partner with your rock-hard cock without having to worry about being a flop.
According to recent surveys, the majority of Hydromax and HydroXtreme users report marked improvements in their sex lives.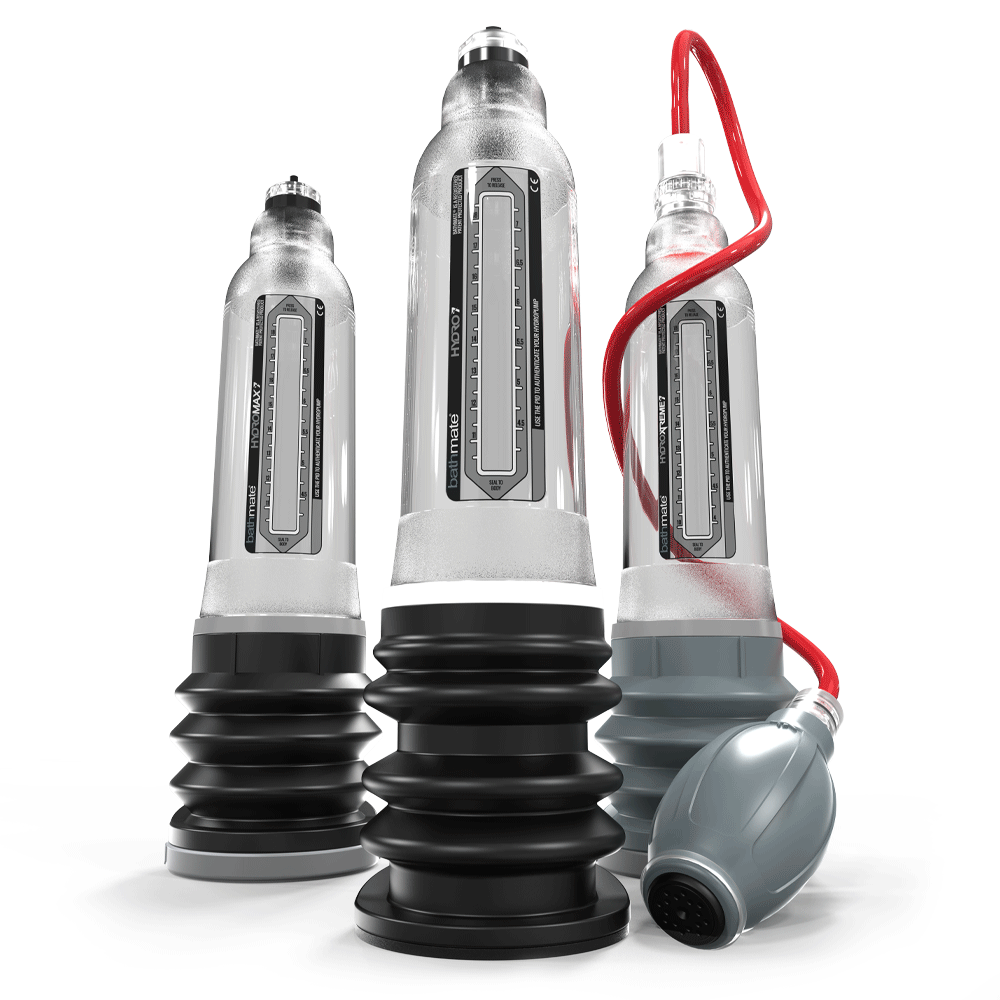 The Award-Winning Range Of Bathmate Penis Pumps
3. Enhanced Size
If you were ever wondering whether or not size matters in the sack, just ask yourself this one small question: have you ever seen a pocket-sized dildo?
Sure, when it comes to getting your partner's rocks off, it's not the size of the boat that matters, it's the motion of the ocean. Still, nobody can deny that the bigger the boat, the bigger the waves, if you catch our drift.
Bathmate's hydro-powered pumping action will maximize blood flow to your penis, making you harder than you ever thought possible, in short order. Just a few pumps will give you jaw-dropping results that hit the spot every time.
When you have a solid Bathmate routine under your belt to maintain your gains in between romps, your schlong will never fall short of anyone's expectations again. In fact, a whopping 85.7% of HydroXtreme users report improvements in their size after just two months.
4. Improved Personal Confidence
When you no longer have to worry about your penis letting you (or your partner) down, that's enough to put a skip in anyone's step. But the massive self-esteem boost you'll get from feeling in control of the hard-earned gains from your Bathmate workouts usually extends well beyond the bedroom.
When men are confident about what they can bring to the bedroom, they naturally give off an irresistible vibe known as Big Dick Energy (BDE). It's the confidence without cockiness and attitude without arrogance that naturally emanates from guys whom everyone suspects must surely be packing some serious heat in their pants. You know it when you see it — the twinkle in the eye, the coy smile, the steadfast demeanor.
Despite its very literal name, however, Big Dick Energy is less about the dimensions of your dick and more about having a well-endowed attitude. Being pleased with the results from your Bathmate workouts is enough to make you exude BDE, even if you aren't hung like a donkey (yet).
Surveys have shown that the majority of Bathmate users report a self-esteem boost from their workouts, which can translate to self-assuredness in all areas of life — at work, at home, in relationships (present and future), or just about everywhere else.
5. Easy and Convenient
Convenience for our customers is one of the key reasons Bathmate stands out from other male enhancement brands. Our streamlined solutions allow you to slide your daily pumping routines right into even the busiest of schedules. Because Bathmate Hydropumps harness the power of warm water for comfortable but powerful suction, you can easily squeeze your workouts right into your daily shower, bath, or both.
In a hurry, or simply want to unwind and take a load off? Our Shower Strap offers a hands-off approach to penis pumping, freeing up your hands (and mind) to multitask as your pump works its magic on your manhood.
Going somewhere? Whether you're on holiday at a five-star hotel or just hanging out at home, all of our products are discretely portable with the Bathmate carrying case and perfectly storable with the removable pump holder, so you never skip a beat no matter where you end up. They're also 100% waterproof and easy to clean.
Bottom line: we make sure your workouts fit into your life, so you don't have to fit your life around your workouts.
Still Not Convinced?
With our 60-day money-back guarantee, you can't go wrong. We go to great lengths to ensure our customers are happy with the results they gain from our Hydropumps and accessories. As always, if you're not completely satisfied with any product you've purchased from our website, we'll give you a complete refund — no questions asked.