If you believe any of these sex myths, you're probably not as good as you think you are in bed…
With the rise of the internet (and certain channels that feature free videos), there's plenty of information about sex available online.
Unfortunately, there are some myths that many men still believe about sex…
We're exploring some of the more common sex myths men actually believe. Don't worry if you still believe one of these, we're correcting them as well to give you more confidence in the bedroom.
Sex Myth #1: Men's Sex Drive is Higher Than Women's
A few myths surround the respective sex drives of men and women, including the idea that men "peak" in their early 20s and women don't "peak" until their late 30s or early 40s.
The reality is that women's sex drives can be just as powerful as men's, and younger women may be just as focused on sex as younger men. Plus, as women get older, they may be more comfortable with their own sexuality, more aware of what they enjoy, and better at communicating with a partner.
Other things can affect a man's sex drive, including low levels of testosterone, what he eats, and his workout regimen.
If a man is eating poorly and is in poor health, his libido may be affected as well. Certain chronic health conditions, including clinical depression, diabetes and heart conditions can also affect a man's libido.
Sex Myth #2: Taking Erectile Dysfunction Drugs Can Enhance Performance
Erectile dysfunction (ED) prescriptions such as Viagra, Cialis or Levitra may help older men achieve and maintain erections.
These medications help improve blood flow to the penis, rather than helping men last longer or achieve bigger erections.
Unfortunately, there's a very pervasive myth among men that these medications can help reduce premature ejaculation, last longer in bed, go multiple rounds, or enhance the size of their penis.
The fact is, once a man ejaculates, he loses his erection, no matter how the erection is achieved.
However, there are ways that a man can last longer and prolong the time between getting an erection and ejaculating.
Topical anaesthetics or delay creams can work, just be sure to do your homework. Products containing benzocaine and lidocaine are likely to remove sensations completely, leaving you unable to feel a thing!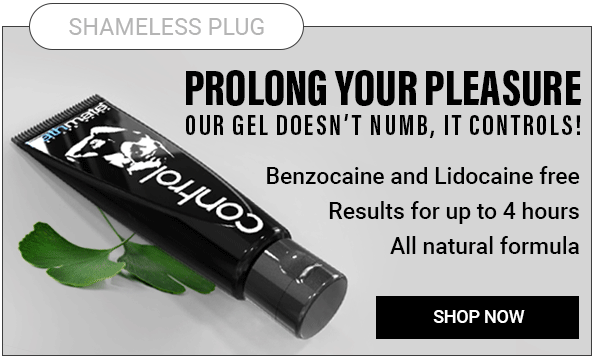 Sex Myth #3: Men Must Maintain an Erection To Enjoy Sex
This myth goes along with the mistaken belief that a man has to ejaculate to enjoy sex.
Stressing over his performance, or worrying that he'll ejaculate too soon can actually lead to difficulty in maintaining an erection.
The fact is, foreplay can be enjoyable for both partners, even if a man isn't fully erect.
Stimulation of the entire body or just sensual touching and kissing is an important part of sex.
Spending a longer amount of time building intimacy and excitement can help a man relax his mind and allow an erection to happen naturally.
Even after a man climaxes, sex can still be enjoyable. He may enjoy the sensations of pleasing his partner, even if he doesn't have an erection.
Men can enjoy many different sexual actions that don't involve penetration, including oral sex or sensual touching. When both partners look at sex as something beyond the goal of orgasm, then they may have a greater sense of intimacy and discover more about what pleases the other.
Sex Myth #4: Women Climax From Vaginal Penetration Only
Some men claim that they can make a woman climax the moment they slide inside her.
This seems like one of the oldest myths in the world, and the number of clichés and memes about men not being able to find the clitoris attests to the pervasiveness of this myth.
While it's true that some women are able to climax vaginally, through stimulation of the "G-Spot," most women need clitoral stimulation as well as penetration to climax.
Different sexual positions can give a man better access to stimulate his partner's clitoris or may give her greater control to stimulate herself against his body.
Another myth is that if a woman needs to manually stimulate her clitoris, it means that the man isn't good enough to please her on his own.
This is untrue as well.
A woman may enjoy both the penetration and the clitoral stimulation, and her preference doesn't reflect on her desire for her partner or her satisfaction with him.

Sex Myth #5: Men Only Want to Have Sex With Hot Women
This myth may have started with the notion that men are "visual" when it comes to sex.
While it's true that men are visually stimulated, the way that a woman looks isn't the only thing that defines a man's attraction to a woman.
The emotional connection between partners encourages the release of the "love hormone" oxytocin and leads to a greater bond between the two.
The physical feeling of a woman's body may also affect how enjoyable a man finds the sexual experience, including how she responds to his touch and her participation.
Many men prefer a woman who is enthusiastic and into the pleasure of both of them than a "perfect 10" who just lies there and doesn't engage.
Conclusion
There are a lot of myths surrounding sex. Many men may tend to exaggerate about their achievements in the bedroom, their "body count," and other matters when hanging out with their buddies.
The pervasiveness of online pornography, plus a prevalent social media culture that celebrates unrealistic body images for women, can help contribute to some of the self-consciousness that women feel in the bedroom.
The best sex comes through open communication and a feeling of trust with your partner. When both people aren't under the expectation to perform to a certain standard, and instead focus on enjoying each other's bodies and pleasing themselves and their partner, the sex can be phenomenal.