Is shopping for sex toys with your partner something you do or have considered doing? Years ago sex toys were not something that was talked about openly and if they were it was mainly by women, amongst friends.
Thankfully attitudes have begun to change and more and more guys and girls are talking frequently about their purchases and what their favourite toys are.
We sell sex toy products to both men and women but what about shopping for adult toys together? Taboo or not taboo – that is the question!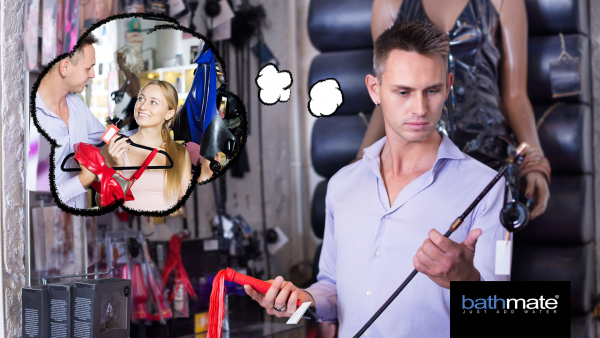 We have found that those who play together, stay together. Now when considering something like a cock pump you will need a certain level of discretion and to approach the conversation in the correct manner especially if you are suggesting one for your partner. It's easy to be caught up in the whole conversation over the size of his manhood, truth is, penis pumps are way more than just enlargement devices. The entire range of Bathmate cock pumps can be used in both air and water, they are the safest and most powerful pumps on the market. A penis pump is used to increase blood flow and circulation giving the user harder, stronger erections that last for longer. This is great news for the both of you! The Bathmate routine will also look after your overall penile health and help with sexual dysfunctions such as erectile dysfunction. Whilst buying something like a penis pump may not be the number 1 thing on your Christmas list, once tried it will certainly become the number 1 toy in your sex life.
Sex toys can be enjoyed during solo play or with a partner, for the guys – enhancing what you already have in a safe, controlled and natural way can set you apart from the crowd. We have pumps and potions designed especially for you. Jelqing with Max Out Jelqing enhancement serum alongside your pumping routine will maximise those gains so you get everything out of your Bathmate products.
You Jelq by forming an ok grip and massaging the penis in a stroking motion. It's a great exercise to do from beginners to intermediates, it's free and can be done whenever you have a few spare moments to yourself. Enhancing what you have in a fast and effective manner will boost erection strength and give you a huge boost in self-esteem. You can view our guide to Jelqing here or alternatively see how you measure up against other guys here.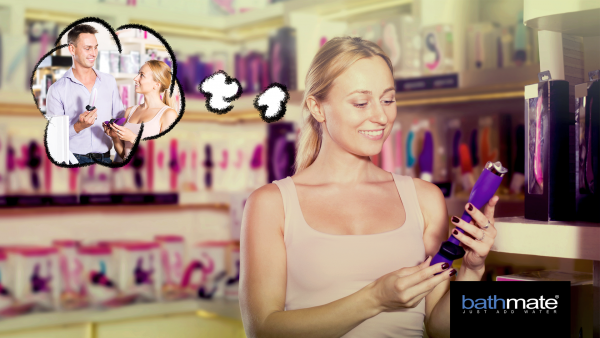 Having an open dialogue with your partner and shopping together with make your relationship stronger as you explore and fulfil each other's sexual desires, when it comes to the ladies our world's first fully waterproof IPX7 rated bullet vibrator is definitely the one, the next time you run your partner a romantic candlelit bubble bath have the USB rechargeable bullet vibe on hand. Watch her go wild as waves of orgasmic pleasure take over her body as you play together. Pleasing your woman should please you and introducing the Bathmate bullet vibe is a sure fire way to fulfil her needs.
If you are shopping together you may want to turn your attentions to toys that you can both enjoy at the same time, something like the Bathmate tickle ticks all the boxes. It's designed to hit the desired spot every time and can be worn facing upwards or downwards depending on whether you would like to stimulate the testicles or the clitoris. With a small but powerful 3 speed bullet you'll never have mundane sex ever again.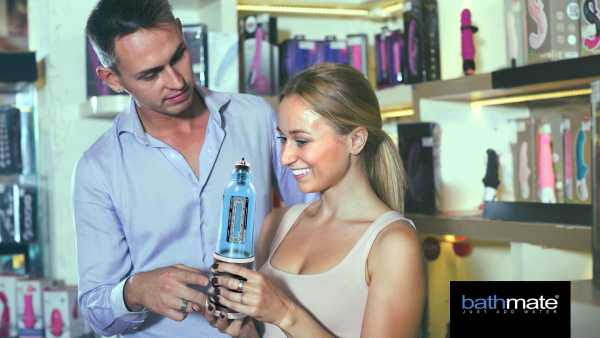 Buying sex toys together is one way to ensure you get exactly what you want, why not go for a few drinks or a romantic meal together before hitting the shops or doing some online research? It's fun, exciting and will get even the stalest relationship feeling fresh and ultimately back on track!
You may feel that bringing up the whole subject of sex toys might be difficult – Fellas why not ease into the topic it by discussing your favourite lingerie your lady wears for you? Ladies, why not bring up the fact that more and more options are available for guys meaning more pleasure for the both of you!
Why not visit the official website and take a look around we have a toy for everyone. For those of you considering one of our award winning hydropumps but are unsure on which model would best suit your needs we have a handy size calculator which will point you in the right direction, alternatively you can email our support team here support@bathmatedirect.com