Do you want to take your sex life to the next level? As creators of the multi award winning Bathmate hydropump range we thought we would cast the spotlight on the king of all cock pumps the HydroXtreme.
What does it do?
The HydroXtreme harnesses the power of water to create hydraulic pressure that can increase the size of your penis in a natural and safe way over time. It is also worth noting that this wonder device can work in air too for sexual spontaneity. It doesn't stop there – by increasing blood flow and circulation our penis pumps can help you gain and maintain an erection if you are suffering from sexual dysfunction. Long term use can also go towards helping stop the onset of erection dysfunction in later life, consider it the final part to a full body workout.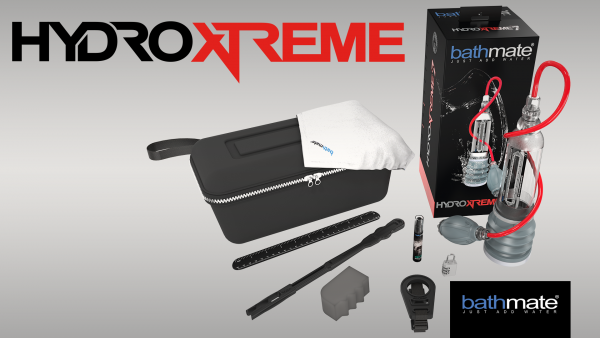 So how does it work?
From as little as 15 minutes (or under) a day you can be on your way to sexual prowess, enhancing what you already have in a quick and easy fashion.
Our penis pumps work best in the shower or bath but as mentioned before can still be used in air should you desire. The first thing you will need to do is take out the comfort insert and lock the valve system. The reason we do this is to prevent any trapped air in the convolutes of the pump. Think of it this way – the more water the better. From here you have a number of options:
Standalone pump – once the vessel is completely full to capacity replace the comfort insert and place your penis inside the vessel. Unlock the valve by returning it to its central position. Gently compress the penis pump by pulling towards your pelvic area. You will notice water will eject from the valve area and your penis will be drawn into the vessel. Take your time and pump again when you feel comfortable, once you have pumped to capacity leave the vessel on your penis for up to 3 minutes. To remove the pump, gently compress the entire valve system.
Pump and handball – this is designed to give you more control. The handball itself will not attach to the pump completely – this is a safety feature for if you accidentally drop your penis pump mid-session. It will ensure you don't damage either component irreparably. Once you have filled and unlocked the pump as directed you will be able to generate power from the handball which ultimately compresses the penis pump. You will have complete control over how much water you want to eject from the vessel
Pump, handball and hose attachment – This is by far our favourite way to use the HydroXtreme and is exactly why we designed it. This will take your pumping experience to the next level. To use the handball and hose attachment you will need to add one more stage – twist the entire valve area to lock it into place. This means you can apply pressure when you attach the hose, once the hose and handball are in place you can twist the valve cap back into its unlocked position (ensure the black pip is in its central position). You now have the ultimate cock pump at your disposal. You can pump the handball to your heart's desire – with the potential to use 100% of this products functionality you will reach powerful but safe levels of pressure that give you the results you desire. All of our pumps produce a level of negative pressure well within the legal limits accepted by the FDA.
Why go Xtreme?
Not only does this pump use water to create a uniform pressure around the penis but it comes with a complete accessory kit with everything you could possibly require to enhance your penis.
This incredible accessory kit includes the following products:
Carry case
Measuring Gauge
Cleaning Sponge
Handball
Comfort Insert Pad
Hose Attachment
Bathmate Clean
Security Lock
Shower Strap
Wash Towel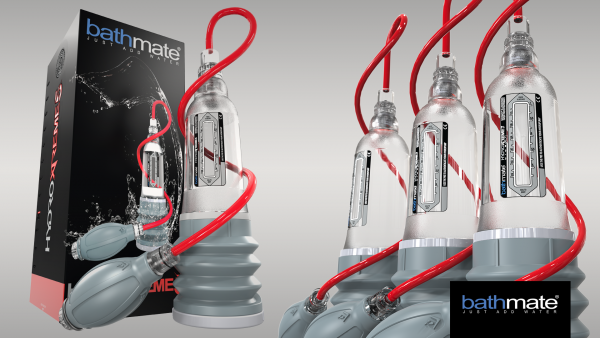 Where is the evidence?
By clicking here you can watch 2 independent YouTube reviewers put various Bathmate models through their paces – by clicking here you will be taken to a radio discussion with none other than Dr James Barada MD. We have also been lucky enough to receive case studies from our customers – by clicking here you can read what one of our customers had to say about his experience using a Bathmate penis pump. By simply typing Bathmate into your search engine you will find countless accounts from men all over the world sharing their individual success stories. Why not join over 1 million men just like you and begin your Bathmate journey today.