For men, their morning routine tends to come with extra stiffness—and we're not talking about muscles. Despite popular belief, the penis isn't part of the muscular system, even if it seems like you can flex it the same way you would any muscle. This similarity has made men assume the penis is just another muscle. But as men's health becomes more popular, guys around the world are starting to wonder "Is the penis a muscle?"
The truth is that a penis should be seen as more than the sum of its parts, even if some of those parts are muscles themselves. Simply put—a specific muscle and membrane within the penis are responsible for the morning wood that pops up when asleep to greet you the next day.
How Erections really Work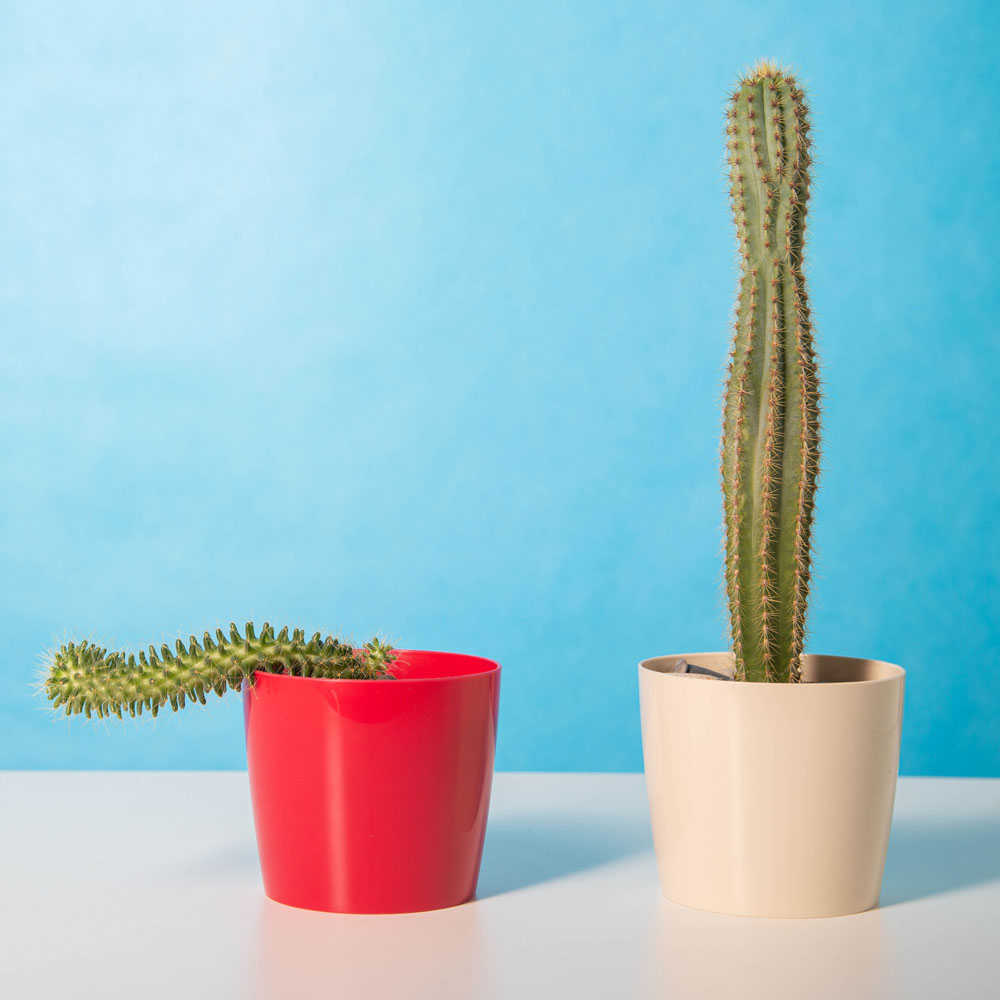 Have you heard the old adage "knowledge is power?" Well learning how your most valuable tool functions can help give you the power and control to make sure it's operating at maximum efficiency. Every erection starts with some sort of stimulation whether that be physical or mental. Most guys know that arousal can come and go seemingly at random, but there's always a source.
Sometimes it's expected like a bumpy bus ride while other times it's an unexpected brush against your towel after a shower that sets your brain off on an erection tangent.
Regardless of what gets your gears going, arousal triggers the brain to begin preparing for an immediate relocation of blood to the vital area. This reaction along with the cyclic guanosine monophosphate pathway, cGMP to its friends, facilitate the flow of blood into the smooth muscle corpora cavernosa.
Fighting against the current is phosphodiesterase 5, or PDE5, an enzyme in the walls of blood vessels that keeps things stable. The problem is that PDE5 can reduce cGMP and make getting an erection harder in all the wrong ways.
PDE5 inhibitors are commonly used to treat erectile dysfunction and some can even be found in certain foods. When PDE5 is inhibited, cGMP is able to go about its business as usual and then some as inhibited PDE5 sites become available to host cGMP production now that it's no longer actively trying to destroy it.
Once all of these stars have aligned and the penis begins swelling in anticipation, the tunica albuginea—last new medical term we promise—acts as a membrane to help trap blood and maintain the erection. After you've reached climax, everything is thrown in reverse and allows for the outflow of blood from the corpora cavernosa. All done automatically thanks to the brain's natural response to arousal.
Think of an Erection as a Reflex
Every man tries to forget about the awkwardness of involuntary erections when they were younger. As painful as those memories can be, they show that erections happen whenever they feel like it. It can be easy to assume that there's a way to quickly control the situation given how frequently it pops up but if you're still aroused, your brain won't relent.
Rather than a simple command to flex, an erection is the product of a domino effect that starts with arousal and ends with ejaculation or loss of arousal. Each phase plays a critical role in achieving a hard and timely erection that lasts as long as needed.
The 5 Stages of an Erection

As complex as men's genitals can be, the entire process can be boiled down to a few key points. These are the 5 primary stages to an erection summarized for easier memorizing or sharing to impress potential partners with how much you know about your sex "muscle":
1. The Penis Fills With Blood
In response to sexual or psychological stimulation, the brain sends impulses that cause the muscles around the penis to relax, allowing the corporal bodies to fill with blood. cGMP, NO (Nitric Oxide), and PDE5 inhibition come into play right away to get things going.
2. Partial Erection
The increase in blood flow causes the arteries in the penis to expand. Some men may see significant growth during this stage depending on whether they're a grower or a shower. A quick reminder that being one or the other doesn't matter so don't stress it when it comes time for the clothes to hit the floor.
3. Full Erection
The increased pressure in the penis prevents the blood from being drained away, expanding the penis to full erection. The floodgates will remain closed until ejaculation for maximum longevity.
4. Rigid Erection
Once the veins in the penis are fully compressed, maximum rigidity is achieved. The penis may start to change in color but don't be alarmed. Remember that the harder and more aroused you are, the more blood is flowing through your penis which causes everything to look more red.
5. The Erection Subsides
When ejaculation occurs, the muscles surrounding the penis start to contract which in turn, results in blood being drained away from the penis and returning it to its normal, flaccid state. The curtains are drawn while your brain and penis take a break in preparation for their next act.
The next opportunity for an erection will depend on your refractory time which is the measure of time until your brain decides it can muster up another erection. On average this is 30 minutes but some men are lucky enough to bounce back in less than 10. If you have trouble getting it up in the first place, time may not be the problem.
Common Causes of Erection Problems (ED)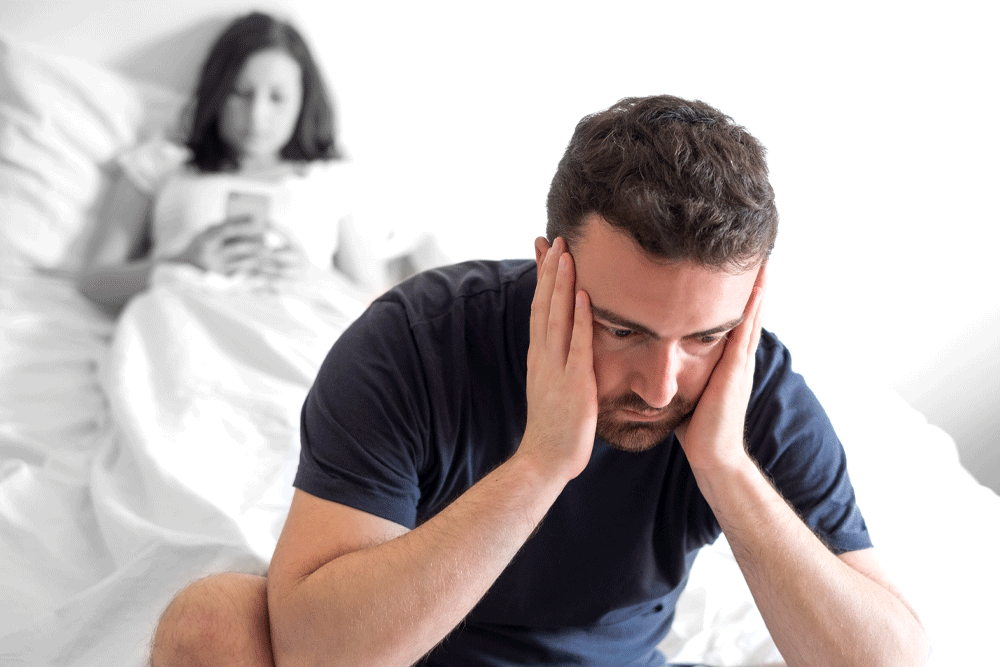 You don't have to be diagnosed with erectile dysfunction, ED, to experience difficulty achieving and maintaining an erection. It helps to split potential causes into two categories—psychological and physical—to make troubleshooting easier.
Psychological Causes
It doesn't take much to lose an erection if you're not in the right headspace. A loud noise from something falling in the other room is enough to pull the brain away to do a risk assessment on the potentially dangerous sound. Thankfully these distractions tend to be temporary, but there are long-term psychological barriers to erection that many men suffer from.
Too Much Porn
A fact that no one wants to learn is that their porn viewing may be causing trouble in the arousal department. The more porn you watch, the more likely you are to experience erectile dysfunction due to a mix of unrealistic expectations and a desensitization to what may be considered standard sexual interactions.
Performance Anxiety
Stage fright can happen to the best of us when it comes time to deliver our lines. Common performance anxieties tend to revolve around concerns of getting it up, being able to satisfy, and being able to finish.
Size Anxiety
Often accompanying performance anxiety is size anxiety. Even with an entire industry dedicated to helping people get off, men still worry that their size won't be enough or that their partner will think less of them. Fellas, just remember it's about having a good time.
Physical
Staying out of your head sets you up for great erections, but some men may need to focus on their physical health to seal the deal. Testosterone levels are a common physical factor that can be adjusted, but there are ways to help that don't require a trip to the doctor.
Diet
Always easier said than done, eating a balanced diet can help stave off ED. The primary concern is fat as too much of it can block arteries and reduce blood flow to the penis.
Smoking
Smoking follows a similar line of thinking as diet does when it comes to erections. The plaque buildup from smoking can decrease blood flow throughout the body and the penis needs a lot of it to maintain an erection.
Alcohol
The double-edged sword of alcohol is one many men struggle to balance. On one hand it helps you relax and get in the mood while on the other it depresses your brain activity TOO much and you can't trigger an erection.
Can You Improve Your Erection?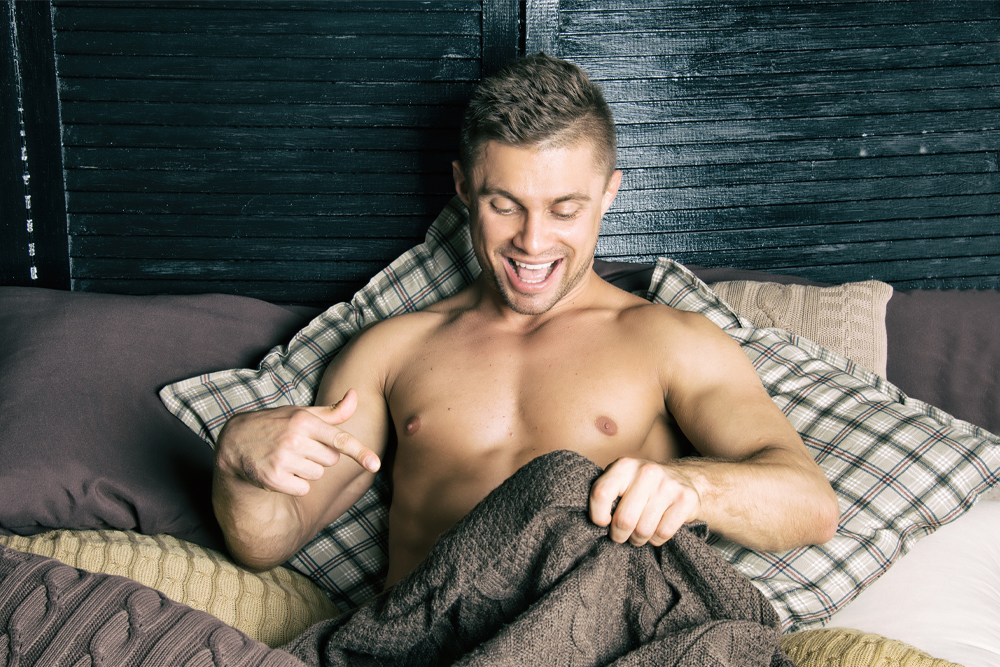 The million dollar question of how to have a better erection. You'll be happy to know that there are plenty of options available for men of all sizes and levels of erection problems. A good starting point is to focus on a healthy lifestyle and seeing your doctor if there are any glaring concerns. To build off of this baseline, men have explored different supplements that contain the right enzymes to stimulate new erections.
For consistent and quick erections, penis pumps are your best bet. Water-based penis pumps have become the go-to as they don't harbor the same level of risks of bruising or tearing during use compared to air pumps. Pair this with a penis ring that sits at the base of your shaft and you'll be ready to roll.
Can You Make Your Penis Bigger?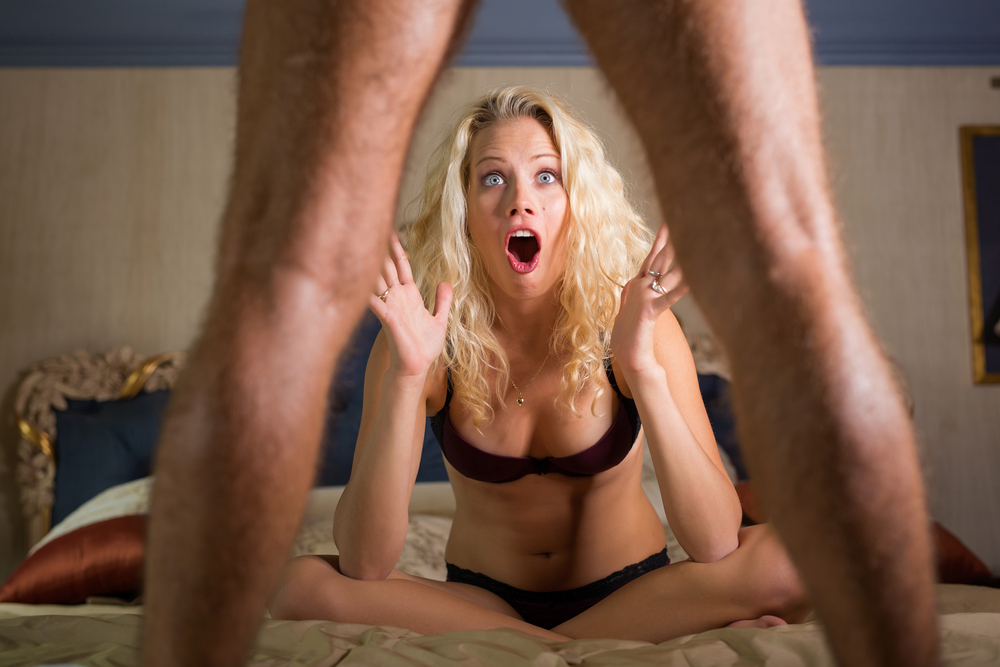 A bigger penis is a wish many men have only to be met with unkept promises of a 12-inch member thanks to a random man's "one secret trick" shown in an online ad. Being able to achieve a full erection is how your penis will get bigger on its own—though some men have had luck with penis pumps. One user reported:
"I've used the Bathmate HydroExtreme3 daily and have noticed a gain in girth and more frequent erections already."

Verified Bathmate User
Growers have also found luck with their pumps.
"My penis is bigger, flaccid and hard now! For anybody that's more grower then shower you will be seeing some immediate results within 7 days. Thanks HydroMax!"

Verified Bathmate User
Key Takeaways
Now that the lesson is over, did everyone learn something? Remember that:
The penis isn't a muscle even though one is involved with erections.
erection problems can be remedied with better health, supplementing deficiencies, and penis pumps.
Your mental health is just as important as your physical health, especially concerning erections.
Even though you can't control your penis by simply flexing, understanding how erections actually work puts you in a much better spot when it comes time to check under the hood and see what's stopping your engine from roaring.