When it comes to finding the best penis pump for complete penile health and development, you need to be sure your prized asset is in safe hands.
But where do you start? How can you be sure that you're getting the best penis pump for your needs that ticks all the boxes?
As pioneers of the award-winning range of hydro-based penis pumps, we know the importance of safety, quality and performance.
So let's dive in and take an in-depth look at our best penis pump: The HydroXtreme.
Why Use a Penis Pump?
Ideally we would all be born with the perfect penis that we can be proud of. Thankfully there are ways to overcome the anxiety surrounding your penis size and show your partner, or partners, that you've got the right tool for the job. Ignore the idea that bigger is better when it comes to penis size and adopt the mindset that you'll be able to satisfy in the bedroom no matter what it takes.
There's no shortage of options when it comes to helping your manhood perform to its fullest potential. It doesn't matter how well-endowed you are, the pressure put on performance by society can take even the strongest stallion out of the race without proper support. This is where penis pumps come in with options to fit any lifestyle and size out there.
To answer the call for a safe and effective way to give your rod a little more power, we created the Bathmate HydroXtreme line of penis pumps. The HydroXtreme series of penis pumps isn't just for men seeking penis enlargement immediately after pumping. Each pump was designed to also help those struggling with erectile dysfunction which is more than 30 million men under 65 in the US.
Even without ED, millions of men struggle to get it up in the bedroom for various reasons. Factors that can hinder your performance include:
Age
Physical fitness
Diet
Stress
Anxiety
Depression
Added pressure to perform
If any of these sound familiar, rest easy knowing you're in the perfect place to find a solution that works for you. With a comprehensive pumping system, the Bathmate HydroXtreme series of penis pumps is a simple and easy-to-use lineup with unmatched results. Let's jump into what sets the HydroXtreme pumps apart from the competition.
What Is a Penis Pump?
Let's start by addressing the first thing that often comes to mind when someone mentions a penis pump. Yes, it can indeed be used solely as an accessory for more adventurous nights in the bedroom. Penis pumps are nothing new to the scene and have been around since the 60's. Thankfully the technology has come a long way since then.
When you first start exploring the world of penis pumps, you're apt to come across a large number of air pumps. These are the original style of pumps that use air pressure to draw blood to the penis and get the wheels in motion. The issue many users experience with air pumps is that the pressure is inconsistent and can lead to bruising or tearing in spots along the shaft.
One of the largest jumps in penis pump tech was the introduction of water-based penis pumps. By adding water into the pressure equation, penis pumps are able to provide a more constant pressure that removes the risk of injury when used as instructed.
Wanting to make the most of this development, Bathmate started work on new penis pumps and now has the strongest and most comfortable water-based pumps on the market, the HydroXtreme series.
How Does a Penis Pump Work?
The basics of a penis pump work off of the foundations of an erection. Simply put, an erection is when the penis becomes engorged with blood due to stimulation or arousal. The more intense the sensation, the more blood flows into the shaft for a harder and longer erection.
Now this may not be true for everyone, but it's safe to assume that not every sexual encounter to be the most exciting and arousing session ever experienced. That's still no reason to show up half-cocked, pun intended, when there's a solution that fits in the palm of your hand.
Penis pumps create a vacuum around your penis to increase blood flow and maximize your erections. Unlike medications such as Viagra, penis pumps provide on-demand erections that you don't have to worry about lasting longer than four hours. Now that we've covered the basics, let's dive into what high-end water penis pumps bring to the table.
Bathmate HydroXtreme: How to Use, Features & Benefits
We're not shy about our penis pumps in the same way you shouldn't be shy about your penis itself! No one chooses their penis, but you can choose what you do with the one you have. Our HydroXtreme series is what your penis deserves when it comes to improved erections and increased length immediately after pumping.
So what makes these pumps a premium product over other brands? For starters, the HydroXtreme series is the most powerful choice around while improving ease-of-use and comfort with each new iteration. Nearly 90% of HydroXtreme users are satisfied with their long-lasting results that are immediately seen and felt after pumping.
It's About More Than Just Results
Part of designing the best hydropump on the market goes beyond the science of pressure systems. Instead of creating a cumbersome device that takes two to operate, we crafted the HydroXtreme pumps to be user-friendly with inclusions such as a handball for easier operation.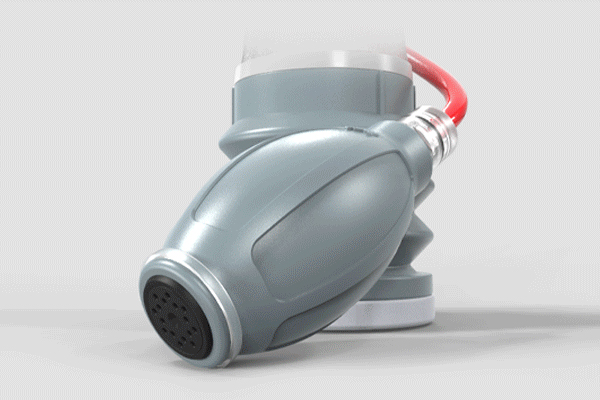 We've also taken the guesswork out of how much pressure to apply. All you have to do with any HydroXtreme pump is to add warm water and seal it against your body. That's it! When you're more comfortable using the pump, you can increase the pressure with the included handball to maximize gains each session.
Accessibility is another huge push we made and still focus on with the HydroXtreme line of pumps. We found that there aren't as many options available for men with lengths on either end of the size spectrum. Our solution? To include as many men as possible when it came to who we had in mind during the design of the HydroXtreme series. Penis lengths anywhere from 11 inches down to below 3 inches can safely and effectively pump with a HydroXtreme.
In order to bring this level of safe suction to men of all sizes without sacrificing comfort, the Bathmate engineers opted for SkinSAFE grade materials. The SkinSAFE benchmark was created in partnership with the Mayo Clinic to help consumers better understand the ingredients found in products that are used directly on the skin.
HydroXtreme Features
Every pump in the HydroXtreme lineup is made with SkinSAFE materials that provide a safe experience on top of a long service life out of your pump. Each pump can be used in the bedroom or the shower with no concern of water damage as the pumps are, you guessed it, waterproof!
Bathmate also includes an accessory kit with every pump purchased directly from the Bathmate website. This package includes a:
Deluxe Leather Storage Bag
Cleaning Brush with Sponge Head
Handball Pump to maximize power and ease-of-use
Comfort Insert Pad
Hose Attachment
Pump Cleaning Spray
Security Lock
Shower Strap for hands-free use
Wash Towel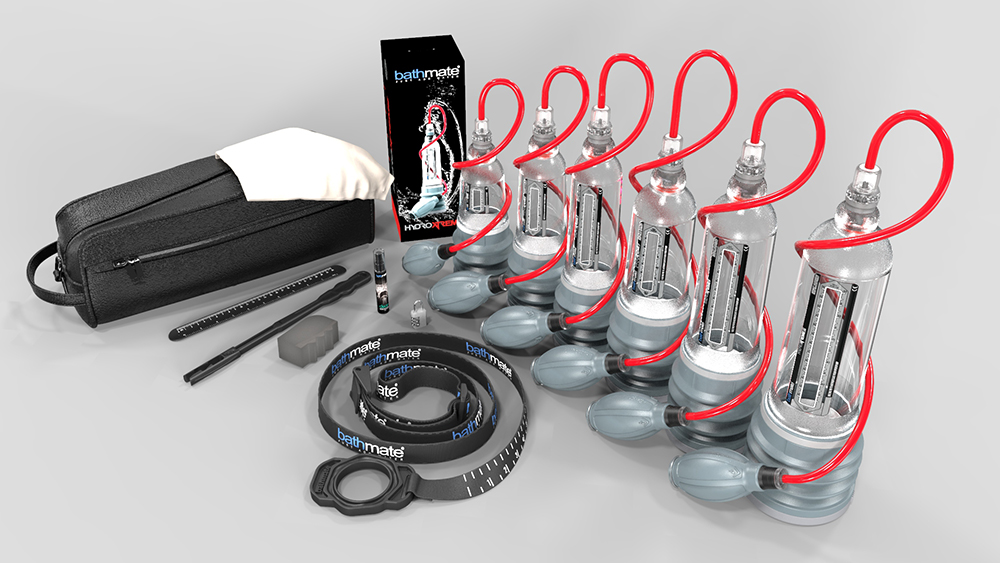 To sweeten the deal and get men pumping, Bathmate offers free international shipping along with a 2-year warranty and generous 60-day money back guarantee, no questions asked.
HydroXtreme Benefits
Using a penis pump as part of your regular enlargement routine can have lasting results that continue beyond the bedroom. Men who use a HydroXtreme pump to enhance their erections report a boost in confidence as well. Here's a review from one of our customers that wanted consistent results from their penis pump.
"I have been using this product for about 3 weeks now and once I get used to the procedure of use I find it fantastic. Substantial increase in my girth already and length also increased. I feel very comfortable with my package now which means more confidence. My wife has definitely noticed the difference. She is as happy as I am. Great support from Bathmate when and if required."
Overall, 92.9% of HydroXtreme users report better erections after just eight weeks. If you weren't interested yet, you should know that 75% of HydroXtreme users also report gaining an inch or more in length immediately after pumping. You could have an inch or more of hidden length refusing to come out and the HydroXtreme series is here to help you realize that full potential.
Wrapping It Up
Bathmate has truly thought of everything when it comes to hydropumps. Whether you're just starting your penis pump journey or you're an experienced pump practitioner, there's a pump for you. It only takes 15 minutes a day to start seeing a change in the size and duration of your erections.
If you're ready to take the plunge and elevate your sex life, check out our HydroXtreme lineup and find your perfectly-sized pump today!