Fans of Bathmate may already be acquainted with their award winning collection of hydro pumps. If you haven't, you really should take a look! The award winning Bathmate hydro pumps have literally been making waves since 2006 and grown to become the world best penis pumps. This kind of notoriety requires a great degree of innovation. Perhaps this is one of the reasons that Bathmate decided to take things to another level, and create their own unique brand of Bathmate Pleasure products.
So what new products are instore for Bathmate fans?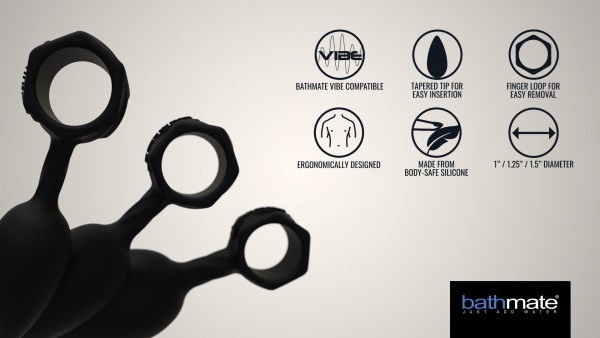 Anal Sex Toys
Anal sex is an up and coming sexual trend which is hitting the headlines for all the right reasons. Don't get me wrong, anal sex obviously isn't a new thing. However, as more people are opening themselves up to new sexual endeavours, reports are that there is an increase of people delighting in this pleasurable sexual act.
The Bathmate anal training plugs are designed for beginners to anal play. Rather that going in strong, anal training plugs help beginners to experiment with anal play in a way that is safer, more comfortable and extremely pleasurable. Each plug contains the mandatory flared base, whilst the shape of the plug is tailor made for maximum pleasure. Once you become accustomed to the size of the training butt plug, simply upgrade to the next size.
For those hoping to add an exciting new element to anal play, the VIBE training plugs work in the same way as the Bathmate Anal Training Plugs. However, they contain something a little extra in the form of a powerful vibrating bullet. As you embark upon your training routine, toe curling sensations reverberate throughout your body to tease, tantalise and thrill you as you play. During intercourse, the VIBE plug enables you to add an exciting new element to your anal experimentation.
After use, the body safe material can be washed with a specialised cleaner and stored neatly in a discreet storage pouch.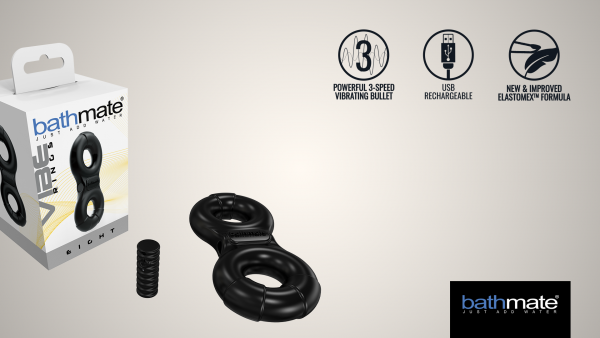 Cock rings
Cock rings are the unsung heroes of the male sex toy industry. Whether it's a standard cock ring, vibrating cock ring or a textured cock ring, these stretchy little numbers help to create a stronger, thicker erection which lasts up to four times longer. For those who struggle with a weak erection, a cock ring can help to add the level of firmness that you require to enjoy satisfying sex or masturbation.
The Bathmate Power Rings are a no frills cock ring but that doesn't make them any less satisfying. These powerful rings are great for beginners because they are easy to use and they deliver a powerful squeeze. As with all cock rings, the squeeze is important because this helps to reduce the flow of blood leaving the penis once an erection has been achieved. Thus, helping to create a strong erection. Power rings are super stretchy, reusable and there are a range of different textures to try.
The Bathmate VIBE Rings work in the same way as the Power Rings in that they help to create a long lasting erection. However, VIBE cock rings differ because they offer powerful vibration too.
The Bathmate Tickle contains a rabbit style tickler which is ideal for heterosexual sex because it stimulates both the man and the woman, whilst helping to maintain a strong erection. For those who enjoy a firm grip, the Bathmate Strength contains a double ring so you can enjoy extra pressure to the penis. The Bathmate Stretch and Bathmate Eight offer a different style of ring in that they stimulate on the testicles. During the male climax, the testicles retract towards the body. However, if pressure is applied in the form of a scrotum ring, the testicles cannot retract in the same manner. Therefore, the male orgasm lasts even longer and feels more intense. Now, imagine this sensation with the addition of powerful vibration…. mind-blowing!
Essentials
The Bathmate essentials range contains everything that you need to keep your Bathmate Pleasure Products in tip top condition. Unlike other toy cleaners, this antibacterial cleaner works by sterilising the surface of your toys without damaging the material or affecting the performance of the product. If you want a little more reassurance for your anal sex toys, the Bathmate Anal Toy Cleaner is the world's first product aimed specifically at anal sex toys. This unique product can also be used on any other sex toy and contains a unique skin safe formula. Simply wash your toy, rub the cleaner in and wash it off. If you're on the go or travelling, try the Anal Clean Wipes. These individually sealed wipes are easy to carry around and deliver the same great results!
Lasting longer in bed has never been easier with Bathmate Control. This unique gel shuns harmful chemicals to offer a gentle numbing sensation using the highest quality natural ingredients. Simply apply to the penis minutes approximately 30 minutes before intercourse and enjoy the results. Because you only lose a small amount of sensation, you can still enjoy the same mind blowing sex that you are used to, it just lasts longer!
Bathmate Pleasure Lube is a lubricant that promises to deliver super slippery results. The water-based lubricant is gentle on the skin, slippery to the touch and compatible with both condoms and sex toys. For something more hardy, the Bathmate Anal is a luxuriously thick lubricant which cushions the anal cavity to deliver more enjoyable and comfortable anal play.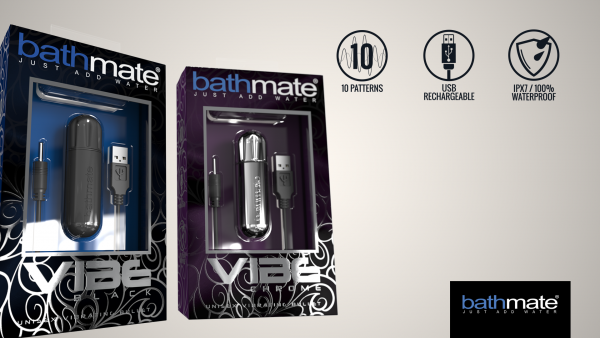 Vibes
Perfect for women and men, the Bathmate VIBE collection offers ten speeds of toe curling excitement. Combine with your Bathmate Anal training plugs, cock rings or as a standalone sex toy for sheet clutching stimulation. Each bullet is rechargeable and can be used in the bath, shower or anywhere of your choosing. The VIBE offers pinpoint precision so it hits all those external hotspots, to ensure that you always have a good time.
Don't' believe me? try it for yourself and see.
Delivery
All orders placed on the Bathmate Pleasure website will be discreetly packaged and dispatched same working day (if placed before midday). All orders placed after midday will be dispatched the next working day. Excludes Bank Holidays.