What makes the Bathmate Hydro pump different to the many products out there that claim to improve penis size and sexual function?
How can you be sure which product is right for you?
It's always good to be sceptical about what you're reading, especially when it comes to sexual enhancement.
There's an almost unbelievable amount of false info around, and plenty of wrongly advertised products out there ready to take your money.
Since the first Bathmate Hydro Pump was launched in 2006, we've seen a different side to the problem. With so many scams out there, how can we prove to you that our hydro pumps genuinely make a difference?
Do Bathmate Hydro pumps Actually Work?
For many, it's the reviews we get from customers around the world, from testimonials to the picture and video evidence some of our bigger fans put out.
For others, the fact we give a total money-back satisfaction guarantee helps, but for others, seeing the actual science behind Bathmate is what matters the most.
We've commissioned several reports and surveys to demonstrate the actual scientific principles behind our pumps. The latest was penned by Sarah Hewson BSc (Pharmacology & Physiology), an independent researcher who took a look at the history and science behind Bathmate as a medical device.
Here are some of her key takeaways:
"[T]he inclusion of water allowed maximal expansion of the penis without the negative side-effects associated with the standard vacuum pump systems".
[Quoting urologist Dr. James Barada] "The Bathmate hydro pump works because it increases the size of the penis by drawing blood into the penis and expanding the natural vascular channels that are found there…you actually start to stretch the tissue around the vascular channels, increasing length and girth".
"Negative-pressure erectile devices have been demonstrated to significantly increase penile blood flow and boost oxygenation and nitric oxide synthesis… regular use of these devices can not only delay, but actually reverse the natural aging process in the penile tissues".
Not sure exactly how? It's pretty simple
By creating a vacuum around the penis, Bathmate pulls blood into the penis, quickly resulting in an erection. When the vacuum is maintained, more blood reaches the penis, making the erection harder and longer-lasting than usual.
If you're looking to maximize your penile health and increase your size, though, it just takes a little longer. Keep the vacuum on for about 3-5 minutes before releasing the pressure and recovering for a couple of minutes. Build up the pressure again, and follow the same routine, finishing it off with a third and final session. While it might take a while to get there, we suggest 15 minutes of Bathmate use a day to maximize your gains and keep them locked in.
With the use of water creating a far more convenient and effective workout than other penis pumps, there really is no need to use Bathmate in air. If you'd prefer to avoid the water, however, there's no problem at all. Just like any other kind of pump, Bathmate can be used for an air-based workout.
That's the scientific view, but for a more hands-on test, what do our customers actually think about Bathmate?
Bathmate hydro pump Results: The Stats That Say It All
In addition to the many customer reviews we've received over the years, there's a couple of stats we like to use, all taken from some 2020 surveys, when we reached out to thousands of our customers around the world:
While size gains aren't the only reason to use a Bathmate, they're the most important part for the average user. The vast majority of our users report that their size increased after starting a Bathmate routine, with 80% of HydroXtreme users claiming gains. Most users report girth gains, with the majority seeing length gains after working out for 2 months.
Bathmate just gets better over time. After 2 months of use, a full 81% of users reported either better or longer erections.
It's not just about the dimensions though. Out of those who reported size gains, an incredible 90.2% said that they were more confident after starting a Bathmate routine. An additional 77.4% said that their libido improved after getting started with Bathmate.
The vast majority of users report that their flaccid penis became bigger thanks to Bathmate – ideal for anyone who's worried about being a grower, not a shower.
The Full BATHMATE HYDRO PUMP line up
By now, you should now be ready to start your Bathmate journey, skyrocket your sexual health, max out your confidence and make a real, lasting difference for your life.
Here's an in-depth look at the full Bathmate line up:
Hydro Series: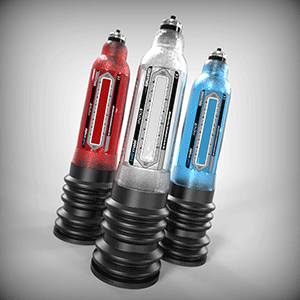 The world's first hydro pump, the Hydro gives users a gentle starting place, making it a popular first choice.
Hydromax Series: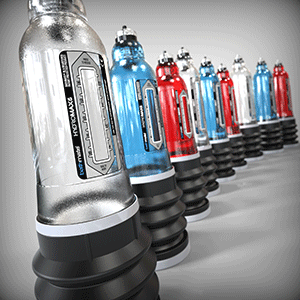 By far the world's best-selling penis pump, Hydromax is number one for a reason, with far more power and convenience than the basic Hydro model.
Hydroxtreme Series: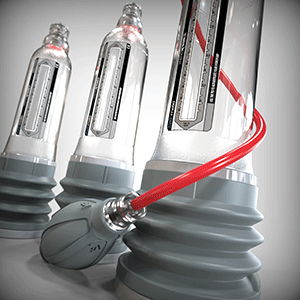 The world's most powerful penis pump, HydroXtreme delivers legally unbeatable pressure courtesy of a simple-to-use handball. Ideal if you're looking for maximized performance and power, with 80% reporting size gains