Travelling is the epitome of freedom and for some, that means stripping down and taking a dip in cool, clear waters. Unfortunately, for many of us, overseas travel is still off the cards. But, with the UK's roadmap out of lockdown, 'staycations' are all the rave.
With this in mind, we've analysed some of the most popular nudist beaches in the UK to find out which location really is the best for naturists, from the average summer temperature to the accessibility. This has given us the ultimate list of the best UK beach holidays for nudists.
The Top Rated UK Nudist Beaches
For each of the 25 official nudist beaches, we have looked at the accessibility of the beach, the available amenities, average summer exposure, average temperature, average wind speed, Tripadvisor and Google reviews and the distance of the car park to come up with the ultimate list of UK nudist beaches. An index was created to score each beach based on these metrics to determine the 'Total'.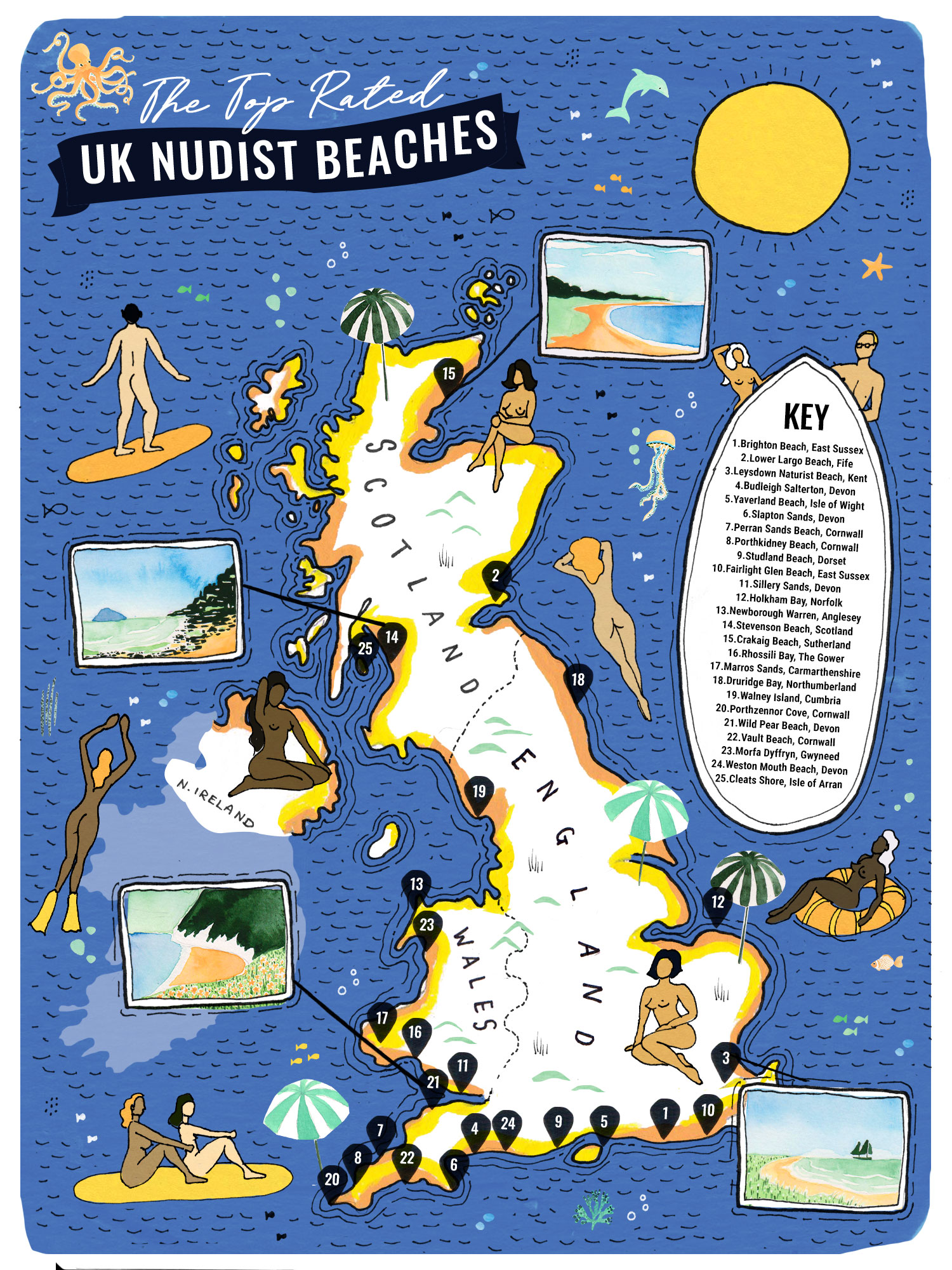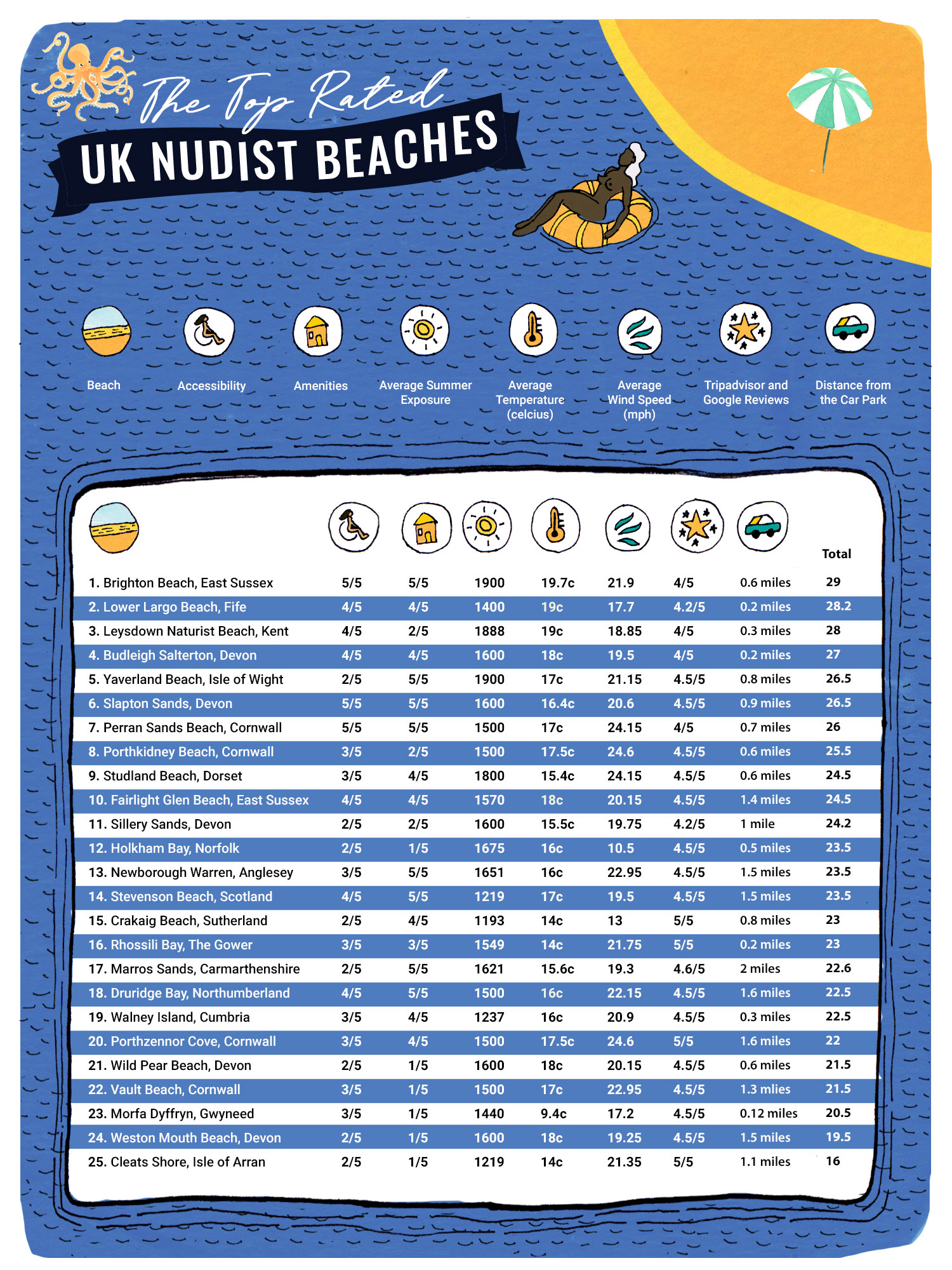 1. Brighton Beach, East Sussex
Opened in 1980, it may come as no surprise that the ever-popular Brighton Beach has topped our list as the best cooling off spot for nudists in the UK. With an average summer temperature of 19.7 degrees, sunshine almost all year round, great amenities and easy accessibility, you can see why Brighton Beach is one of the UK's tourist hotspots. Luckily, the nudist part of the beach is located on the east end of Brighton's seafront promenade away from prying eyes. A great beach in which to try naturism for the first time!
2. Lower Largo Beach, Fife
Located in the pretty village of Lower Largo on the coast of Fife, Lower Largo Beach offers three miles of golden sand backed by sand dunes. At low tide, the beach is often a mile wide and with an average summer temperature of 19 degrees, this spacious, sunny spot is ideal for an all round tan. The village and beach sit to the north of the Firth of Forth, serving up fantastic views and behind the dunes is a wildlife conservation site, but the keep out signs must be respected. There are no facilities on this beach but the car park is a mere 0.2 miles away.
3. Leysdown Naturist Beach, Kent
Just a short distance away from the Leysdown beach in Kent, you'll find a hidden stretch of sand, shingles, shells and nudists. Although tucked away, Shellness is one of the most popular nude beaches in the UK with up to 100 naturists visiting on busy weekends in the summer. While it has an average temperature of 19 degrees, it's also known for being windy with the average being 18.85km per hour. So, we'd recommend bringing windbreakers or seeking calmer spots in the dunes.
4. Budleigh Salterton, Devon
The small and quiet seaside town of Budleigh Salterton is a popular retirement location and is the western start of the world-famous Jurassic Coast. The picturesque town has a 2-mile pebble beach with the naturist section of the beach at the further end which has been well signposted. If you're new to the nude beach experience, Budleigh Salterton is a great place to start as it's spacious enough for everyone to be spread out and enjoy laying naked in the warm 18-degree sun.
5. Yaverland Beach, Isle of Wight
Thought to be one of the best and biggest beaches on the Isle of Wight, Yaverland features a lovely long stretch of sand and beautiful swimming waters. It's also one of the dinosaur beaches so it's steeped in history with guided fossil walks available (fully clothed though, of course). The naturist section of the beach is at the far end, beyond the red cliffs and has spectacularly scenic views of the white chalk cliffs of Culver Down. With an average summer temperature of 17 degrees, it's a great place to walk across the warm sand and dip your toes in the ocean.
6. Slapton Sands, Devon
Although Slapton Sands in Devon is not officially recognised as a nudist beach, naturists have been enjoying this beautiful part of the coast with its crystal clear waters and ample space since the 1930s. It's actually one of the most famous naturist beaches around! Because of a landslip, access to the original nude section became near impossible. So, most naturists now use the closer, north section of the beach. Slapton Sands is a very popular beach, but thanks to its 3-mile stretch it never feels crowded so you can sprawl out on your beach towel without worrying about other people getting too close.
7. Perran Sands Beach, Cornwall
Perran Sands Beach, or Perranporth as it's also known, is one of Cornwall's most popular, sandy, nudist beaches. Situated on the north Cornwall coast, the beach backs right onto the village where you can enjoy a drink in the pub with stunning sea views or stay for a few days in the local village caravan park. There is also a large car park that's as close to the sand as you can get, making it very convenient and accessible. Naturists use the far north end of the beach where experienced surfers also enjoy the waves.
8. Porthkidney Beach, Cornwall
Another beach where you can comfortably strip off and sunbathe in Cornwall is Porthkidney Beach on the North Cornwall coast near Hayle. This large, sandy beach, which stretches for about a mile long, is just two miles from the picturesque harbour town of St Ives and is perfect for nudists who are still a little shy as many use the secluded enclaves in the sand dunes for privacy.
9. Studland Beach, Dorset
Studland Bay Beach in Dorset is one of the best known official nudist beaches in Britain, with a naturist history going back as far as the 1920s! The nude section is in the middle of the 3-mile long sandy beach and spans across 900m. With no shady spots, this area of the beach is completely out in the open for you to bare all and achieve the perfect full-body tan! The nearest beach kiosks & toilets are a mile or so to the south in Studland village. Studland is a very popular beach and more suited to experienced naturists.
10. Fairlight Glen Beach, East Sussex
East Sussex is home to a great tucked away sandy beach surrounded by a forest. Fairlight Glen Beach is a popular naturist beach in a secluded location with beautiful views of Covehurst Bay. At low tide, the beach becomes a wide flat expanse of clean sand which is perfect for strolls and during summer, when temperatures on average are around 18 degrees, the sea becomes warm and wonderful to swim in. The atmosphere is excellent and it's also a fantastic place to engage with nature as there are plenty of wildflowers around and many interesting species of birds in spring and autumn.
11. Sillery Sands, Devon
On the North Devon coast, just east of Lynmouth is the secluded Sillery Sands beach. Because of its isolated location, this sand and shingle beach is a well-known, popular nudist beach. It's usually fairly quiet so you can soak up the sun in peace. Access to this beach can be tricky though, which is why not many people visit. The easiest route is to park near Countisbury Hill and head on to the coast path where a steep track leads you down to the beach. There aren't any amenities here except free parking and dogs are allowed, so make sure you pack for the day wisely and take food and drinks with you.
12. Holkham Bay, Norfolk
Boasting 4 miles of stunning white sands and picturesque views, the large beach of Holkham Bay in Norfolk features rolling sand dunes, a wooded area and a nature reserve nearby. Since the 1950s, the west end of the beach has been popular with naturists but, although the average summer temperature is 16 degrees, the average wind speed is 10.5 meaning it can feel a little chilly. There are also no amenities on the beach either so it's best to stock up with everything you'll need in Wells.
13. Newborough Warren, Anglesey
Located at the southwest corner of the island of Anglesey, Newborough Warren beach has superb views of Snowdonia and the Lleyn Peninsula and is classed as one of the most beautiful beaches along this part of the coast. As the beach is approximately 5 miles long, there is ample room here for nude bathing! However, it's quite a walk to get to the nudist section, around 2-3 miles from the car park so make sure you pack a set of clothes and bathers for the journey there and back.
14. Ardeer Beach North Ayrshire, Scotland
Ardeer beach, in North Ayrshire is the only official naturist beach on the South West Scottish mainland. The large sandy expanse stretches for 2 miles and reaches an average summer temperature of 19.5 degrees. Naturists tend to visit the part of the beach beyond the first rock groyne. But, they have been known to stroll the entire length of the beach too. The beach is a 15-20 minute walk away from the car park and is close to the town centres so plenty of shops, pubs and public toilets are available too.
15. Crakaig Beach, Sutherland
On the remote, North West coast of Scotland, Crakaig is a designated naturist beach that even holds a nude swim event on the 1st and 3rd Sunday of every month! The naturist section is to the west of Lothberg Point and the owner of the beach also runs the campsite behind the beach. While this isn't a naturist camp, there have been a few weeks in June where nudists are welcome. Although it's a beautiful beach for nudists, it tends to be fairly quiet as the average summer temperature in North Scotland is just 14 degrees which some find is a little too cold to bare all.
16. Rhossili Bay, The Gower
Rhossili beach, which is west of Swansea in South Wales, has around 3 miles of gorgeous golden sand and great sea views of the Carmarthenshire coastline. The southern end of this beach gets very busy as it's a popular spot for walks and watersports and has been classed as one of the best beaches in Europe. Don't let that scare you away though as naturists tend to use the northern part which is much quieter.
17. Marros Sands, Carmarthenshire
Secluded, quiet, clean and sandy, the long stretch of Marros beach on Carmarthen Bay on the south coast of Wales is largely untouched and somewhat off the beaten track. This means it is quite a hike from any direction. The nearest road access is from Marros village which is around a mile's walk away, but, remember this is then all uphill on the way back. The nudist section is at the western end of the beach, beyond the rocks and although it is physically challenging to get to, we promise it'll be worth it!
18. Druridge Bay, Northumberland
A 7-mile stretch of golden sandy shoreline, backed by grassy dunes, Druridge Bay in Northumberland is a private beach that allows nudists to use the south to the midpoint to catch the ever-desired all over tan. There is a large car park 1.6 miles away and a 518 bus service that stops at Hadston which is just a short 10-minute walk to the beach. Every year in late September there is a mass skinny dip event where you can run naked and free toward the rising sun and into the unpolluted but chilly sea which is always great fun!
19. Walney Island, Cumbria
Walney Island is an 11-mile long island in the Irish Sea where a secluded beach, backed by sand dunes in the far northern area of the island sees more nudists than clothed people. The nude area spans at least 2-3 miles, giving you plenty of space to strip down and enjoy the sun on your skin with an average summer temperature of 16 degrees.
20. Porthzennor Cove, Cornwall
Porthzennor Cove is a small sandy and rocky beach in Cornwall. It is a naturist beach but not one that's designed to sit and relax, rather walk and explore. With an average summer temperature of 17.5 degrees, this spot gets lovely and warm which is ideal. Access to the beach is by a steep footpath and can be a little tricky, there is a car park 1.6 miles away so it requires a bit of a trek. Tucked away and quiet this beach is a real Cornish gem.
21. Wild Pear Beach at Ilfracombe, Devon
Wild Pear Beach on the North Devon coast was named one of the best nudist beaches in the world and is very popular amongst naturists. This is mainly because it's wonderfully quiet and very private due to the fact that it is in a rocky cove and very well protected. The path to the beach is hard to find and requires a steep trail down a cliff and there are no amenities around so make sure to bring everything you need with you.
22. Vault Beach, Cornwall
Naturally beautiful, Vault beach in Cornwall, south of St Austell is completely unspoiled and consists of coarse sand with steep slopes behind that rise high above the sea. As a somewhat hidden beach, with the path not particularly obvious it has a very secluded feel but in recent years it's become increasingly popular, especially amongst nudists at the far end of the beach.
23. Morfa Dyffryn, Gwyneed
Morfa Dyffryn is the most popular nude beach in Wales and has been used by naturists since the mid-1930s. With stunning views of Snowdonia and the Rhinog mountains this beach brings in plenty of visitors, with hundreds of bare bathers on warm weekends, but with 1 mile of the beach sectioned off for naturists, there's room for everyone to enjoy a slice of paradise without feeling crowded. The beach is about a 15-20 minute walk away from the car park on flat land but there are no nearby amenities.
24. Weston Mouth Beach, Devon
Scenic and remote, Weston Mouth beach is on the East Devon coast between Sidmouth and Seaton where the nearest amenities are. With an average summer temperature of 18 degrees, this beach is warm enough for nudists to strip off and enjoy the sun on every part of their skin. Naturists have been welcome at this beach for years with the right-hand side of the beach reserved for nudists. Although it is a pebble beach so we'd recommend bringing a towel with you.
25. Cleats Shore, Isle of Arran
Cleats Shore is an official naturist beach located near Lagg on the South-West tip of the Isle of Arran, meaning to get to this beach you first need to catch a ferry. From there, you can then take a bus or drive and park at the end of the track near the beach. The sandy beach has been described as the least visited nudist beach in the world so you can pretty much guarantee total privacy here!
Top Rated UK Naturist Campsites and Holiday Parks
We also took it upon ourselves to analyse every camping and caravanning site that welcomes naturists in the UK and come up with a list of the top 20 rated sites. We obtained the ratings below through UK Campsites by looking at the variety of options and amenities available for naturists as well as why specifically they've been so well received by visitors.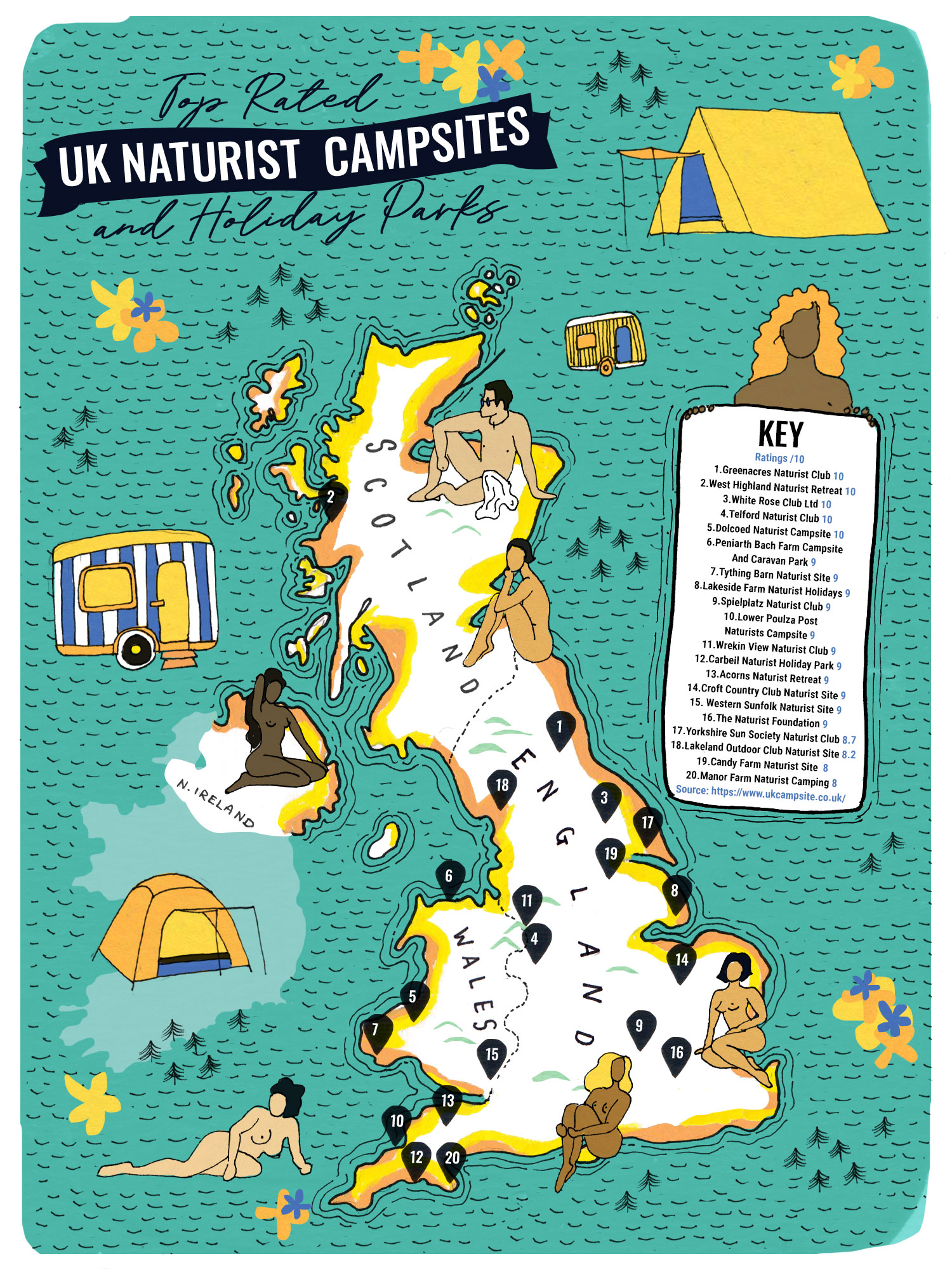 With several campsites available in every region across the UK there's plenty of choice for naturists to enjoy! Greenacres Naturist Club in Durham was rated very highly because of its great facilities such as a bar on site, shops nearby, hot showers, clean drinking water, kitchen and recycling facilities and disabled access. This campsite is suitable for tents, caravans and motorhomes and also has a kids playground, a TV room, an outdoor pool and evening entertainment making it ideal for families or groups.
For a beautiful getaway in the Scottish Highlands, the West Highland Naturist Retreat is a hidden gem of a campsite that has everything you need for a relaxing trip. Small and secluded, this site offers statics for hire as well as pitches for tents, caravans and motorhomes. There's also a beach less than a mile away to enjoy, plenty of facilities such as showers, laundry rooms, clean drinking water and wifi access.
The Do's & Don'ts of Public Nudity
If you're considering visiting a nude beach this year, whether it's for the first time or as an experienced naturist, remember to use common sense and be respectful of other people around. While public nudity isn't illegal in the UK, as long as you don't cause any alarm or distress, you can still get in trouble if you're not careful. Here are some of the do's and don'ts of public nudity.
Do's:
Make sure you're in the nudist section – all nudist sections of the beach will be clearly signposted so make sure you don't wander far from them or strip off before you reach the signs.
Respect people's space – just as you would on a regular beach, give people enough space to relax and enjoy themselves.
Be prepared and wear sunscreen – as the nudist sections of the beach are usually quite far away, make sure you bring plenty of water, snacks, a beach towel, umbrellas and anything else you think you may need. Make sure you also bring and wear plenty of sunscreen as nobody wants burnt bits.
Don'ts:
Don't take photos – sharing nude photos online through social media, email or any other form without consent is a criminal offence. Even taking a selfie could be risky as you don't know who could've stumbled into the shot, so it's best not to risk it and put the camera away.
Don't comment on people's bodies – always be respectful of people and be careful with what you say. It's always best not to comment on a specific part of someone's body or tell them how good they look naked. This will only make it an uncomfortable experience for everyone involved.
Don't have sex on the beach – you can get in serious trouble for performing any sexual acts in public. Don't assume that because you can get naked on a beach you can take advantage.
The Bare Necessities
From Scotland and Wales to North and South of England, wherever you are, if you fancy baring all there's no shortage of beaches and campsites suitable for naturists. If you're a beginner wanting to try naturism for the first time, then Brighton, Cleats Shore, Wild Pear Beach, Porthkidney Beach and Slapton Sands are ideal. For the more experienced, try Morfa Dyffryn, Fairlight Glen Beach, Studland Beach, Perran Sands Beach and Druridge Bay for scenic views, beautiful waters and plenty of space to soak up the sun.
Want to bare all at a nudist beach but lacking the confidence to do so? Why not find out how one of our Bathmate penis pumps can help you with the ultimate gains or find out which diets can keep your penis healthy.