'I don't believe this!' yelled Max in frustration thumping the steering wheel of his car. With no fuel in the tank, it wasn't going anywhere and as usual, the timing was impeccable.
Climbing out of the car, he looked helplessly at his surroundings and leaned in to retrieve his mobile phone from its holder. 'That's why people shouldn't use their mobile phones as a sat nav,' he groaned as the screen turned black. He looked at the dark fields around him and contemplated what to do next. Dillon and the others won't start looking for him for ages yet… For all they knew, he was currently on his way to the party, and without his phone, there was no way to contact them.
Without warning, a car with no headlights on swerved into his path at high speed. Max screamed in warning and the car stopped within millimetres from his body. Max saw the drivers face, white with shock, as she looked at Max in his full werewolf costume. She was so close; Max could read the words 'Betty' on a necklace around her neck. Reversing back, she swerved around him and continued driving away. Max felt a strange sense of de ja vu, and quickly shook it off. 'What an absolute nutter,' he muttered crossly to himself before heading towards the direction that she had driven from. If there were cars heading from the lane, there's a chance that somebody would be willing to open the door to a man dressed as a werewolf and help him to recover his car.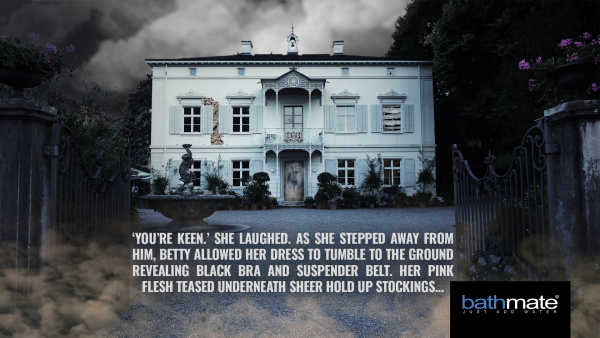 As he walked up the lane, Max came to a large gothic style mansion, and felt a shiver down his spine as he surveyed the stone architecture and leering gargoyles. The gardens, vast and green rustled gently in the wind as he walked towards the large and imposing front door. Picking up the iron door handle, he knocked loudly and was surprised when the door swung open, revealing a large corridor. 'Hello?' he called, stepping into the corridor. 'Sorry, to bother you. I was wondering if someone could help me?'
'One minute,' called a female voice lightly. 'I won't be a moment. I'm just in the living room.' Making his way through the corridor and towards the direction of the voice, Max gave a stare when he saw the young lady from the car which had narrowly missed him. 'How strange,' he thought. 'The car was going in the opposite direction. How did she get here?'
The girl looked at Max and squealed in fright! 'Bloody hell!' She laughed. 'I wasn't expecting a werewolf.' Max smiled, 'I am so sorry, I think we just met on the lane, I'm wondering if you can help me. My car appears to have run out of fuel at the bottom of the hill and I am on my way to a party. Is there anyone here who can point me in the direction of the nearest fuel station?'
'I haven't been out tonight,' she replied, looking confused. 'But, I can help you.' said the girl. 'My friends are arriving shortly and we'll take you there ourselves.' She held out her hand, 'Betty,' She smiled. Taking her hand, Max introduced himself, and noticed that her necklace was missing. 'Very strange,' he thought, looking around.
As he perused the surroundings, Max couldn't help reflecting on how pretty Betty was. Her black dress clung neatly to her curvy figure and the low cut top showed off an ample cleavage. Noticing Max's appraisal, Betty gave a cheeky grin. 'You're not too bad yourself,' she laughed wolfishly. 'Come on,' she said, 'Let's get you something to drink.' She headed towards the kitchen, 'No, thanks, I'm driving,' said Max. 'But I would like a tour of the house. It's amazing isn't it?' Betty nodded in agreement, 'It belongs to a friend of mine. They rent it out and we thought it would be a great place to stay throughout Halloween because it's supposed to be haunted.' 'There's no such thing as ghosts!' scoffed Max, 'You never know…' responded Betty with a knowing smile.
Max couldn't help but marvel at the antique furniture and looming artwork, the house really was phenomenal. As the couple got closer to the bedroom, the air began to feel heavier and Betty's breathing became softer, lighter. The master bedroom was large, dark and contained a huge bed in the centre of the room. 'That's a big bed!' he exclaimed in surprise! 'Yes. This is what's known as an orgy bed,' explained Betty. 'What were you expecting, a standard Halloween party?' she laughed lightly. 'Our parties are a little… different.' Max made his way over to the dresser and looked carefully at the assortment of condoms, cock rings and vibrators. Suddenly, he wasn't in such a rush to get to Dillon's party. Walking over to join him, Max shivered in anticipation as he felt Betty's breath on the back of his neck. Watching their reflections in the mirror, Max felt his cock twitch in anticipation as Betty began to lightly kiss his neck, her soft lips like butterflies as she lightly teased. 'Fancy a warm up?' She breathed into her ear as her hands made their way down towards the zipper. As she stroked his cock, Max felt himself go hard immediately.
'You're keen.' She laughed. As she stepped away from him, Betty allowed her dress to tumble to the ground revealing a black bra and suspender belt. Her pink flesh teased underneath sheer hold up stockings. She wore no panties, a small smattering of pubic hair teasing him deliciously. Dropping to her knees, she looked Max deep in the eye's as she placed the tip of his cock into her mouth and teased him with gentle flicks of her tongue. Max began to groan in pleasure… 'This has got to be a dream,' he thought as Betty's expert tongue flicked and explored every part of his hard cock. 'These things never happen to blokes like me.'
Rising to her feet, Betty began to undress and nodded at Max to do the same. Feeling slightly self-conscious in his werewolf costume, he was glad to shed himself of the soft furs. As they made their way over to the giant bed, Betty collected an assortment of props from the nearby dresser. 'I'm looking forward to seeing what you have in store for me,' Max murmured as Betty pushed him gently onto the bed. He felt the soft clip of the restraints around his wrists and ankles and the soft fabric of a blindfold pushed over his eyes.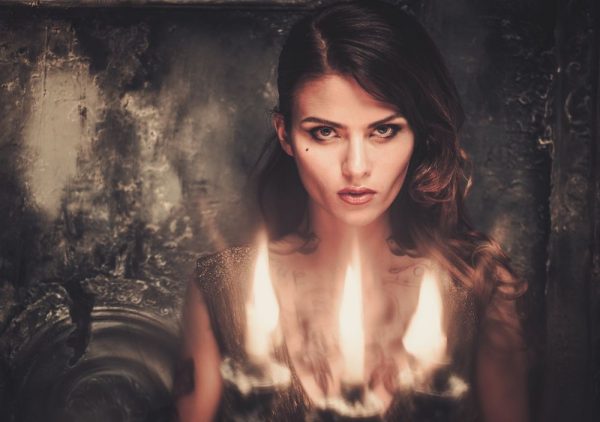 'Do you trust me?' Betty murmured gently, pouring oil all over Max's soft flesh and massaging it gently into his skin. He squirmed in pleasure as she paid particular attention to his stiffening nipples. 'Goodness, you're so cold!' she exclaimed, as she lathered and stroked. Max continued to groan in pleasure as her soft fingers grazed his inner thighs, 'Do you like that?' She asked laughing gently. Unable to see, Max felt the rustle of movement as she turned her attention to his crotch, her tongue teasing with light flicks and her teeth delicately grazing his balls. Unable to move, Max writhed in pleasure as she expertly brought him to the brink of climax.
Seeing he was close, Betty removed the blindfold and positioned herself over his midriff, her legs open. She dimmed the lights with a remote control and slowly began to remove her bra, her ample breasts spilling to freedom. 'We can't have you coming too early and spoiling the party,' she grinned as she began to fondle her small pink nipples. Max squinted his eyes and tried to focus as one of Betty's hands moved lower towards her pussy. With her eyes trained on Max, Betty began to stoke her clitoris, her small groans of pleasure highlighting her enjoyment. Unable to take any more, Max begged her to stop as the carnal urges began to take over, his desperation becoming more urgent.
Reaching down behind her, Max heard the tearing of a condom packet as the condom was placed over his throbbing shaft. Expertly, Betty rolled the condom to the base of his penis and added water-based lubricant to an unusual object. In the darkened room, the strange item glowed. 'What's that?' questioned Max, feeling slightly nervous. 'This?' laughed Betty. 'It's a vibe ring!' with a flourish, she applied lubricant to the ring and gently slid it down to the base of his shaft. The pressure felt firm, but not unpleasant. Protruding from the ring was a glowing arm, filled with soft nodules. 'This will help you last a little longer, and gets me off a little faster,' she giggled. Leaning back, Betty switched on the ring and began to sink slowly onto Max's throbbing cock. Buzzing vibrations resonated throughout his body, causing him to cry out in delight. It was delicious…
Unable to take his eyes from Betty, he watched as she rode his dick, unable to shake the sensation that he had seen her before. As her eyes closed in ecstasy and he looked at her properly, he noticed her long neck and began to remember that she did used to wear a necklace… they moaned in unison… memories flooded him and it all began to make sense. Unable to think straight, he resolved to deal with it later.
Faster and faster Betty rode, her panting and groaning becoming more urgent with every thrust. Unable to move, Max was powerless to the incredible sensations, his cries of pleasure echoing around the imposing master bedroom, his fingers digging into the soft mattress. Together they climaxed, their bodies celebrating with a shuddering display of ecstasy. Max writhed in pleasure, his wrist and ankles still tightly bound. Completely spent, Betty laid on top of him, her skin pink with sweat as she panted with exhausted pleasure.
'Wow…' breathed Max, also spent. 'That was amazing.' Betty smiled as she began to untie him from his bounds, and turned to switch off the vibe ring. Max shook his head and smiled, 'I'm still hard.' He grinned, his eyes flickering towards his glowing crotch. Betty smiled lazily, 'In that case, I've heard that it's always good manners to return a favour…'
'Oh yes, I definitely owe you something…' smiled Max, climbing on top of Betty and parting her legs. As he buried his face into her soaking wet pussy, Betty sighed with pleasure.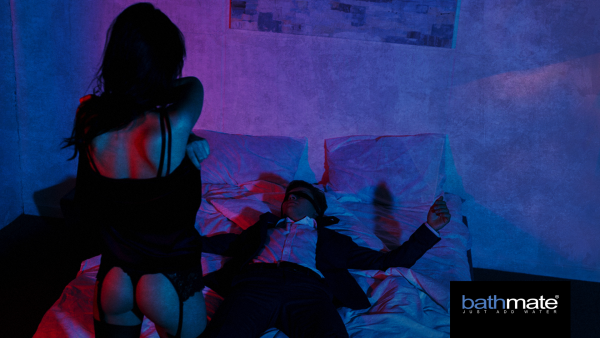 The next morning…
Feeling warmth on her face, Betty squinted her eyes as the sunlight chinked through the curtains. Lazily, she turned towards Max, but the bed was
empty. 'Max?' She called, gathering the sheets to cover her nakedness. In the light of day, she wasn't feeling as confident about her body, but her house guest was nowhere to be seen.
Hearing the front door crash open, Betty quickly threw on some clothes and headed towards the voices. 'Guys, where were you?' She exclaimed, as her two friends raced through the hallway and embraced her. 'Darling, we had a nightmare,' yelled Geoff, his arms waving dramatically as he talked. 'I am so sorry, that you had to spend the night alone.' He nodded towards Jenny, 'Jenny's car had a breakdown, and we couldn't find the hotel… We had to spend the night in a nearby B&B.' We were so worried about you all alone, but there is no signal in this ancient place. We couldn't even send the details of the house to the party guests! Didn't anyone come at all?'
'It's okay. I had rather a lovely night myself…' Betty interjected, shaking her head before being cut off by Jenny. 'We heard the most amazing story about this house last night.' Jenny squealed. 'Apparently, a few years ago a young man was killed at the bottom of the lane. He was travelling to meet friends and also ran out of fuel.' She was interrupted by a large sniff of disapproval from Geoff, 'They really should invest in a nearby petrol station,' He sulked.
'Anyway, witnesses say that the man stepped out of the car to call for help and was the victim of a hit and run. A car with no lights simply hit him and drove away. He died at the scene, but they found a necklace next to his body. He was holding it. Anyway, according to the locals, every Halloween the confused ghost recreates the accident and ventures into this old house to seek revenge on the driver who killed him. Isn't that creepy?'
Betty felt herself growing cold. Her mind taking her back to the events of a few years ago when she attended a Halloween party at the very same house. Arguing with another guest, getting into her car, driving in darkness… hitting a dog? Could it have been a werewolf costume? … Speeding away and going back to her home town… Losing her 'Betty' necklace in the chaos… She hadn't heard of any serious accident… As her thoughts became increasingly muddled, Betty could hear her friends faintly in the background. 'Betty, what's wrong? You look like you've seen a ghost…. Betty?' 'Geoff, phone an ambulance, somethings wrong!'
Epilogue
Some say that she was poisoned, others that she had a weak heart that simply gave out. No one ever established the reason why Betty Smith suddenly collapsed and died on the 1st November, exactly five years and one day after the tragic death of Max Wakefield.
Interestingly, the locals never reported seeing a confused and angry spectre wandering towards the old mansion ever again. It seems the ghost of Halloweens past, had finally been laid to rest.