Boner, stiffy, hard-on — no matter what you call an erection, chances are that the first thing that comes to mind when you think of one is a man who's raring and ready to go. Most men have experienced a variety of erection types and when it comes to
penis health
, it's actually a good thing that erections are happening for different reasons. In fact, there are 18 different types of boner that a man typically experiences throughout the course of his life.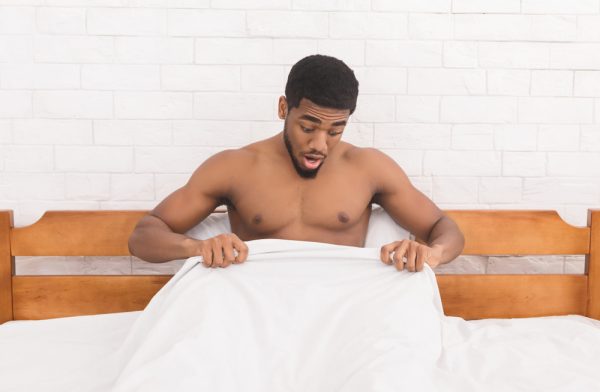 1. The Classic Hard-On
This boner shows up when a man is turned on and ready to go, either solo or with a partner. These boners normally start showing up during puberty and continue to pop up regularly throughout most of a man's adult life.
2. Morning Wood
Every man's had it: morning wood. These boners are often present upon waking and for most men, it can take several minutes for things to settle down there. One great thing about morning wood? It makes for incredible morning quickies — if you can resist the urge to go to the loo.
3. The Bedtime Boner
Bedtime boners tend to creep up on a man just as he's crawling into bed and winding down for the night. These boners are best relieved by rubbing one out quickly before drifting off to sleep.
4. Boners With Bad Timing
Nearly every man has experienced that horrifying moment — they're sitting in church, visiting with their Grandma or chatting with their boss and then out of nowhere it pops up: an erection.
5. The Unexpected Boner
Similar to number four, the unexpected boner shows up at odd times. What makes it different is the fact that this boner is rooted in actual arousal. A man never knows when the unexpected boner might make its appearance — it may show up during an episode of Golden Girls or even while being reprimanded by their boss or hanging with the guys.
6. The Full-Bladder Boner
Every once in a while, when a man really has to pee, the full-bladder boner makes its appearance. This boner is far from being a sign of arousal, it's a more simple, fake-out erection type that ceases as soon as the bladder is relieved. Aim, at this point, is optional.
7. The Peeing-in-Public Stiffy
Maybe it's the excitement of whipping it out in public or maybe it's just the sheer awkwardness of it, but many men end up with erections when they're in a public toilet. Again, aim is optional.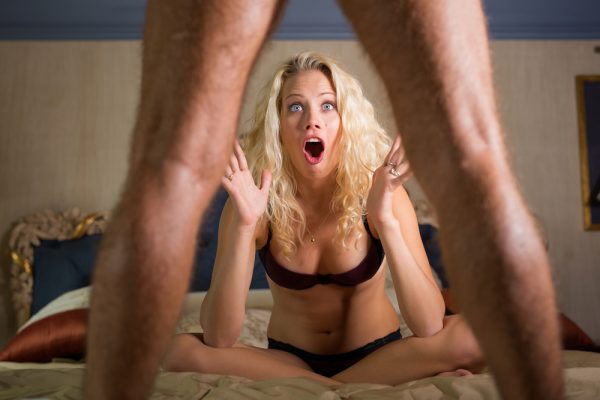 8. The Hard-On That Won't Go Away & 9. The Medical Emergency Boner
If a man gets aroused and his boner isn't taken care of, it might decide to stick around a while. This erection type usually occurs after a man has sexual contact with a partner and doesn't get the chance to finish. These boners can be relentless and, in some cases, last hours. Usually, the best way to relieve this type of boner is by masturbating. When that doesn't work, it might be time to consult a doctor.
10. The Sweatpants Boner
There's just something about sweatpants that gets guys hard. And obviously so.
11. The "Oh, that's just my jeans!" Boner
Men's denim sometimes tents in just the right place, making it look like there's a boner when there's really nothing there at all. Honest.
12. The Quickie Boner
It's not what you think — the quickie boner pops up, usually for no reason, and then disappears just as quickly.
13. The Nocturnal Erection
Starting in puberty, men have an average of three to five boners every night. While they may sometimes be related to an erotic dream, in most cases, it's nothing more than an involuntary twitch.
14. The Not-So-Hard Hard-On
This erection type is technically a hard-on that's well, just not that hard. A semi.
15. The Puberty Erection
During puberty, it seems that the penis spends more time up than it does down. These boners happen multiple times during the day and night — sometimes without a valid reason. As men grow out of puberty and into adulthood, erections usually become better-timed and less frequent.
16. The Work-Out Boner
There's nothing like a good work-out to get the blood rushing. And for some men, that blood heads straight to the penis.
17. The Hardest Hard-Ons
Some erections are just better than others. These boners are extra-engorged, which for most men, is a serious boost of confidence.
18. The Back-In-Action Boner
Once a man reaches a certain age, achieving and maintaining boners can be a little more difficult than it was in their younger years. However, every once in a while an older man attains that legendary erection that he often experienced in his younger years.