Diets can be extremely helpful for a number of reasons, providing you choose the right one. We use diets for a weight loss and other health reasons but did you know diets can have a huuuuge impact on our sex lives? Especially for you, fellas.
You will all have heard about the magical properties of pineapple when it comes to great tasting semen but have you considered how your diet may affect your penis? The Mediterranean diet is well known for increasing blood flow and circulation, this is absolutely brilliant news when it comes to erection strength but before we get there let's look into exactly what the Mediterranean diet is and what food it consists of.
People always connect this name with Italy and Greece but are you sure that these are the only places that we can sample Mediterranean cuisine?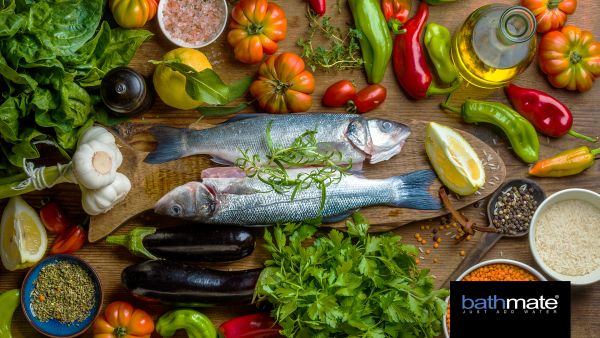 What is it? The diet comes from Mediterranean Basin Region – Greece, Southern Italy, Portugal, Morocco, Croatia, Maghrebi, Egyptian, Levantine, Ottoman (Turkish), Provincial (French), and Spain in the 1940s and 1950s. What are the main ingredients? This diet includes a lot of olive oil, legumes, unrefined cereals, different fruits, and vegetables, huge amount of fish and seafood, cheese and yoghurt, moderate wine consumption, low in meat and dairy products.
Mediterranean cuisine focuses on 3 core products: olive oil, bread & pasta, and wine. It depends on you what you prefer. Here we have some details about each of the different Mediterranean cuisines:
Greek cuisine
Core products: vegetables, olive oil, grains, fish, wine, lamb, poultry, rabbit and pork, olives, cheese, aubergine, courgette, lemon juice, vegetables, herbs, bread and yoghurt.
The most popular dishes: Tzatziki, Greek Salad, Dolmades, Moussaka and Courgette Balls.
Southern Italian
Core products: the South is known for shepherding, and lamb and goat meat, seafood, fish, olive oil, whole grain, tomatoes, cheese, wine, mozzarella, sardines.
The most popular dishes: Ossobuco, Pizza, Ribolitta.
Portuguese cuisine
Core products: fish, seafood, poultry, cured ham, potatoes, carrots, turnips, chickpeas, cabbage and rice.
The most popular dishes: Caldo Verde, Cozido a Portuguesa, Arroz de Tamboril.
Moroccan cuisine
Core products: fruits, vegetables, beef, goat, mutton and lamb, chicken, seafood, lemon pickle, argan oil, cold-pressed, unrefined olive oil and dried fruits.
The most popular dishes: Tagine, Couscous, Zaalouk, Pastilla.
Croatian cuisine (check also Yugoslav diet)
Core products: Garlic, potatoes, cabbage, ajvar, paprika, seafood, polenta, rosemary, sage, bay leaf, oregano, marjoram, cinnamon, clove, nutmeg, and lemon and orange rind.
The most popular dishes: Crni rizot, Manestra, Strukli, Hobotnica Ispod Peke.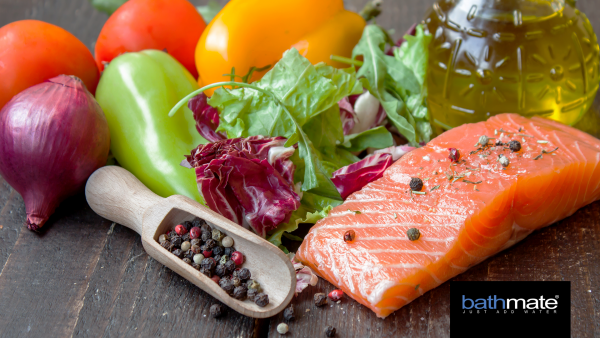 Maghrebi cuisine
Core products: wheat, couscous, fish, seafood, goat, lamb, beef, dates, almonds, olives, vegetables and fruits, fruits, halal meats, cumin, ginger, red pepper, cinnamon, saffron, peppermint, parsley, coriander, legumes, nuts, "oil-cured" olives.
The most popular dishes: Brik, Mechoui, Shakshouka, Pastilla.
Egyptian cuisine
Core products: white and black pepper, cinnamon, cloves, nutmeg, fish, chicken, beef, vegetables, okra, tomatoes, cumin, coriander, cured beef, salty cheese, honey, ghee butter, Hibiscus tea, Molokhia, nuts.
The most popular dishes: Ful Medammes, Falafel, Koshari, Shawarma, Macaroni Beshamel.
Levantine cuisine
Core products: paprika, pepper, cumin, cassia, cloves, coriander seed, cardamom, nutmeg, chickpeas, hummus, sesame, tomato, cucumber, parsley, mint, yoghurt, nuts, pickles, olive oil.
The most popular dishes: Kibbeh, Kafta, Kanafeh, Hummus, Rice Pilaf, Fattoush, Manakish and popular Tabbouleh salad.
Ottoman cuisine
Core products: beef, chicken, yoghurt, fish, rice, parched wheat, dried or fresh vegetables and roots, bluefish, pelamide, mullet, plaice, sole, mackerel, bream, mutton, lamb, veil, onion, garlic, eggplant, pickles, tomatoes, fried potatoes, artichoke, spinach, watermelons, melons.
The most popular dishes: Pide, Kofta, Kebab, Baked potatoe, Gozleme, Lahmacun, Menemen, Meze.
Provincial cuisine
Core products: mushrooms, truffles, beef, lamb, wine, vegetables, asparagus, broad beans, melons, strawberries, cherries, peaches, nectarines, apricots, figs, apples, pears, table grape, cheese, garlic, onion, bread, olive oil, cod, potatoes, seafood, eggs, beetroot.
The most popular dishes: Provencal minestrone, Ratatouille, Aïoli, Tapenade, Bouillabaisse, Tellines, Salade Niçoise.
Spanish cuisine
Core products: saffron, olive oil, red pepper, cured ham, sherry vinegar, garlic, seafood, potatoes, fish, chicken, bay leaves, rosemary, oregano, parsley, peppercorns, cheese, tomatoes, wine.
The most popular dishes: Patatas Bravas, Paella, Gazpacho, Jamón Ibérico, Calamari, Pulpo a la Gallega.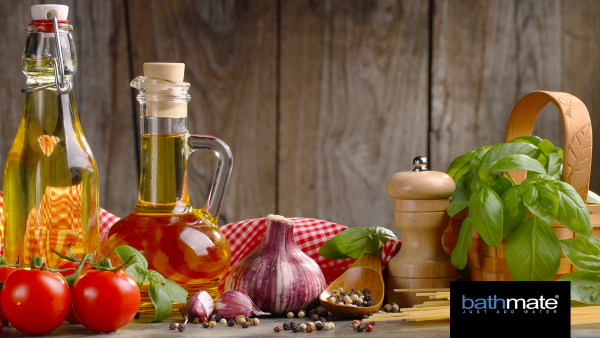 Ok so we have covered your wealth of options – fancy cooking up a storm this weekend? Lets take a look at a quick recipe, that you can set your hand to-
Farfalle con Salmone
Take a sauce pan, add some butter and olive oil, fry salmon, garlic, onion and parsley. Add some black pepper and salt.
Prepare a pot with water and boil some pasta, add some salt – not too much! (we recommend bow-tie pasta).
Stir the salmon and when the pasta is ready pour out the water and add pasta into the sauce pan.
Stir everything together, Put it on plates and add some more olive oil, parmesan and parsley. Bon appétit!
So why?
The reason we are talking about the Mediterranean diet is simple – your penis! It is well known the effect this diet has on your heart health – but the benefits to your sexual health can be just as impressive! The Mediterranean diet can increase blood flow and circulation (much like our multi award winning penis pumps) and what this means is that you will be able to achieve a stronger erection that lasts longer. You won't see any noticeable size difference that you get from using our products, but you will notice a firmer erection. This isn't an overnight miracle cure – you will need to change your diet and stick to it to reap the rewards, but it is possible to increase your sexual performance. If you are suffering from any sexual dysfunctions such as E.D we would recommend giving the diet a test run – we are sure you will benefit and notice the changes in your penile health. Above all – it is great food with overall health benefits that really can't be ignored – you won't even feel like you are on a diet.