Sex toys have always been popular. But over the last few years, a sexual revolution has seen the use of sex toys skyrocket! Couples and happy singletons no longer feel the need to keep their bedroom naughties under wraps and they form part of everyday conversations. Now that sex toys have become mainstream, new and exciting products are being created every day.
However, because there are so many different products available, knowing how to use each product properly can be a struggle for some people. After all, an instruction booklet often talks about how the product works, but doesn't explain how to get the best experience from your sex toy.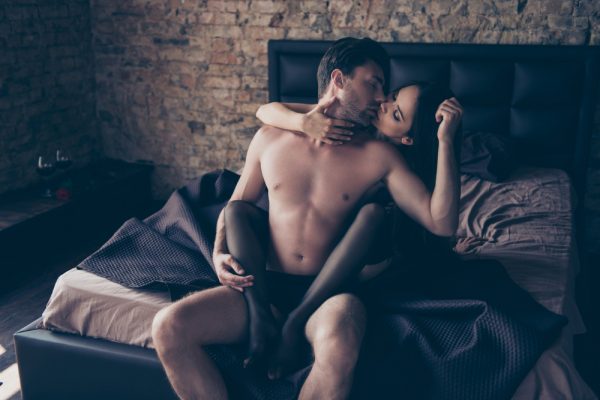 According to research conducted by a company called HealthyandActive, sale of prostate massagers have increased by 56% in the last five years amongst straight men over the age of 45. They also claim that many doctors are advising men to perform regular prostate massage in order to alleviate the symptoms of various health related issues. In order to help you make the most out of your Bathmate Prostate VIBE, we have put together an in-depth guide to using a vibrating prostate massager.
Tell me about the Bathmate Prostate VIBE
The Bathmate Prostate VIBE is a male sex toy which is designed to stimulate the prostate and perineum at the same time. If you haven't heard of the prostate before, this is a sensitive gland which is located inside the anus and is sometimes called the male G Spot. You can also stimulate the prostate through the perineum which is the soft spot located between the scrotum and anus. When inserted, the Bathmate Prostate VIBE uses vibration to deliver dual stimulation to the prostate. This produces a very powerful prostate orgasm.
What are the key features of the Bathmate Prostate VIBE?
• Perfect for first time anal play or for more experienced users
• Easy to use
• Tapered tip for comfortable insertion
• Perfectly shaped for ultimate prostate massage
• Rests comfortable against the perineum
• 100% waterproof for use in bath and shower
• Removable, rechargeable vibrating bullet
• Ten speeds of vibration to choose from
• Crafted from skin safe, high quality silicone
• Easy to keep clean between uses
• Soft pouch for discreet storage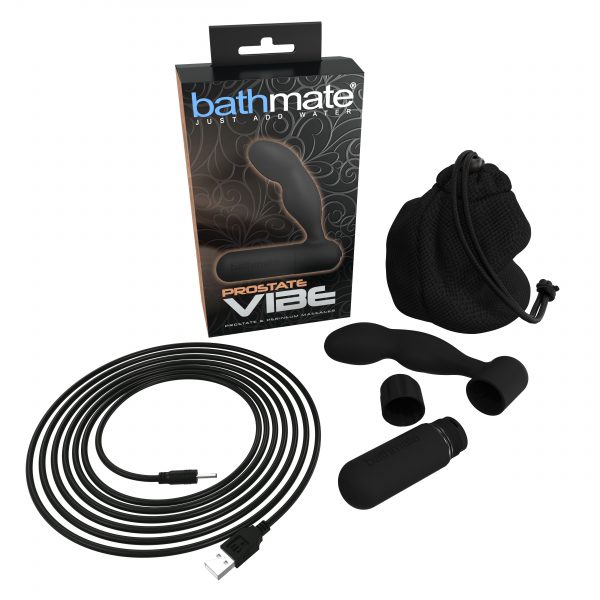 What are the benefits of prostate stimulation?
The main job of the prostate is to create the seminal fluid, called semen, which helps sperm to travel. Using a prostate massager or your finger to massage the prostate gland helps to clear any excess fluid out of the prostate ducts so that it keeps the prostate gland nice and healthy.
Regular prostate massage can also help to ease the symptoms of prostatitis which is a painful swelling of the prostate gland. Massage helps to release fluids and reduce the swelling. Those who struggle to pass urine may also experience a better flow after prostate massage. That's because a swollen prostate can put pressure on the urethra, which in turn affects the passing of urine. Prostate massage also helps blood flow to the penis, which helps to strengthen a weak erection. Great news for those who struggle with erectile dysfunction.
Please note – if you do experience any of the symptoms noted above. It is important that you contact your doctor immediately to discuss your symptoms.
How to use the Bathmate Prostate VIBE:
Relax
It is important that you feel relaxed before you begin any kind of prostate massage. Relax both the mind and your body by having a nice warm bath beforehand, locking all the doors so you have complete privacy, listening to music or doing something that makes you feel completely at ease.
Prepare
Preparation starts long before you use the prostate massager. After removing it from the box, take some time to get acquainted with the Bathmate Prostate VIBE. Take it apart, put it back together and experiment with the different vibration patterns. Figure out how to navigate through the settings and make a note of any that pique your interest. This will help during use as you won't have to spend time scrolling through to find something that you like. Make sure that the bullet is fully charged before use.
If you have a family at home, make sure that you prepare in advance by choosing a time when you won't be disturbed. If this isn't possible, the Bathmate Prostate VIBE is waterproof so fit a lock on the bathroom door and explain that you are having a bath and do not want to be bothered. This may be better when younger children are in bed, so you can really relax. It is important that you try to clear your bowels at least an hour beforehand as this helps to eliminate mess. Before beginning, ensure that everything that you need close to hand such as lubricant and clean towels.
Get into position
For beginners, the easiest way to insert a prostate massager is to lie on your back and bend your knees. Draw your feet towards your bottom so that your anus is exposed and you can reach it easily. Other people find that squatting down offers the best position for prostate massager insertion. It is just a matter of what suits you best.
Lube is your friend
Apply liberal amounts of Bathmate Anal Lube to both the prostate massager and your anus. This helps to ensure that experience is more comfortable. You can never have too much lube!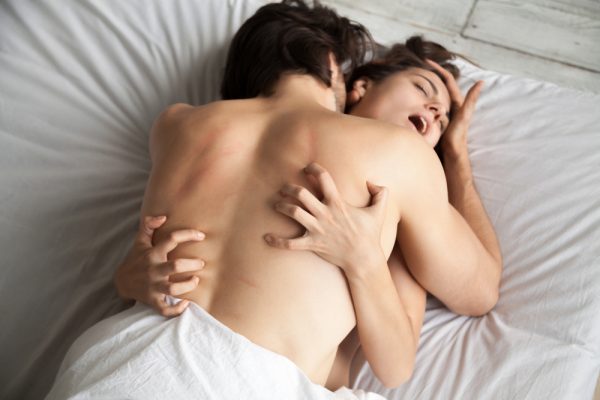 How to use the Bathmate Prostate VIBE
Use the tapered tip of the Bathmate Prostate VIBE to stroke the anus slowly in a circular motion. This helps it to relax and open, it also helps to get you in the mood. Once you feel very relaxed, gently push the tip of the vibe into the anus and give yourself a break to get accustomed. Once you feel okay, push a little further, ensuring that you position the VIBE so that the bottom arm begins to rest on the perineum, just behind your testicles.
Once you have everything in position and you feel comfortable, turn the prostate massager on. Some people prefer to remain laid down during prostate massage, others like to sit down and rock. Again, its just a matter of personal preference.
Don't touch the penis
It is soooo tempting to touch your penis during prostate massage, especially when you're having a good time. A prostate orgasm is different to a genital orgasm and if you're seeking to experience a truly authentic prostate orgasm, try to avoid pleasuring the genitals for as long as you can.
Practice, practice, practice!
The Bathmate Prostate VIBE is perfect for beginners because it is so easy to use and the results are incredible. With regular use and lots of practice this is a sex toy for men that just gets better and better with every use. Because there are ten different speeds and patterns of vibration, practice will help you to work out which setting delivers the best results. Experimenting with different positions also helps you to customise the experience even more.
In short, lots of patience and practice is the perfect way to make the most out of the Bathmate Prostate VIBE.
Enjoy!