The male orgasm is often overlooked. While everyone wants to have better sex, most of the focus is on how to make women's orgasms better. Most men don't realize that their orgasms can get better because — let's face it — there's really nothing better than an orgasm. But the truth is that stronger, longer and more earth-shattering orgasms are possible for men.
Maybe once you master the art of powerful orgasms, you just might hit the motherload, so to speak, and learn to give yourself multiple orgasms. Having multiple orgasms is a bonus for your partner, too, as you can both share in the wealth of a go-all-night roll in the hay.
Edging
Edging is the act of bringing yourself to the brink of orgasm and then backing off, over and over. By staying in a heightened state of arousal, you can build the intensity of the orgasm when you finally let yourself go over the edge. The longer you prolong your orgasm, the more intense it will be, and the longer it will last.
Edging is also a great tool for training yourself to last longer, which helps with premature ejaculation or just going all night long.
Kegels
Kegels are all the talk amongst women, but men can benefit from strengthening their pelvic floor too. By strengthening your pelvic muscles, you can have better control over your orgasm and ejaculation. If your muscles get strong enough, you can hold off your ejaculation and prolong your orgasm. If you can hold off long enough, you might be able to hit the holy grail with multiple orgasms.
Prostate Play
Many men squirm at the thought of playing with their backdoor, but the prostate has tons of sensitive nerve endings that can give you mind-altering orgasms. The prostate is about two inches inside your anus, towards your scrotum. A finger or prostate massager, coupled with sex or masturbation, can add an entirely new pleasure element; in fact, many men can orgasm with prostate stimulation alone.
Explore The perineum
If you're not ready to play with your anus, the perineum is an excellent alternative. This is the area between your anus and scrotum and is packed with nerve endings. You can try rubbing back and forth or applying steady pressure to the area. Your prostate is below the perineum so you can achieve prostate stimulation, adding the intensifying factor to your orgasm. Have your partner apply pressure with their fingers while they stroke you. As a bonus, your scrotum is right there, also packed with nerve endings, so you can play with your balls while stimulating your perineum. The key is to experiment and find what feels good to you.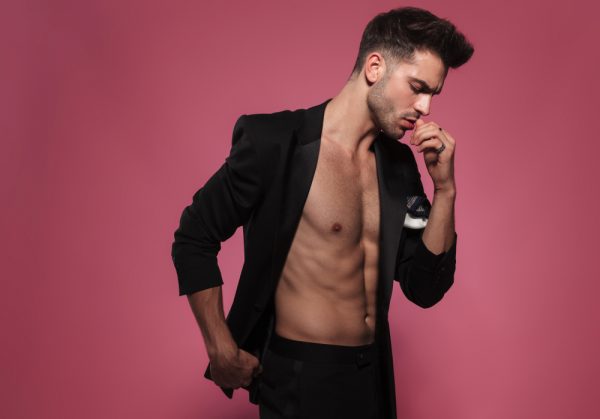 Cock Rings
Cock rings are pretty self-explanatory: They fit around the base of your penis. They are made to prevent blood flow out of your erection, maker you harder for longer. Wearing a ring can make you last longer, building up your orgasm, and many have the added benefit of a vibrator, giving you extra sensations to enjoy. Also, your erection will feel much harder, so you'll have that extra boost of confidence. There is a wide selection of cock rings that fit any shape and size, and many have attachments that stimulate your balls or even allow double penetration.
Multiple Orgasms
It seems such a shame that most men go their whole lives with one short sticky orgasm, instead of being able to have back to back, mind shattering orgasms. But the word is out, and multiple orgasms are possible for men. Orgasms are not dependant on ejaculation, and by training yourself in the art of ejaculatory control, you can have many intense, or sometimes even long and intense, orgasms. Much of your success will be the training of your pelvic muscles. By flexing your pelvic muscles for long periods while having sex, you can stave off your ejaculation, essentially separating the acts of orgasm and ejaculation.