Just ahead of one of the world's biggest adult shows, we're introducing an all-new range – the world's first micropenis pumps!
Next week, the Bathmate team's heading over to Hanover, Germany, for Erofame 2019, probably the single biggest show about adult products in the world. Just ahead of Erofame, we want to introduce you to a completely new collection we're launching this October – our micropenis pump collection.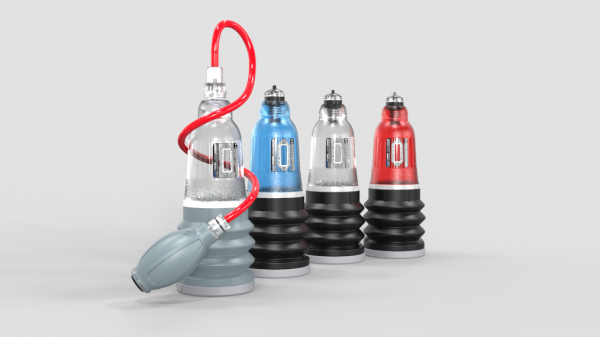 Affecting approximately 0.6% of men around the world, micropenis is a lot more serious than it might seem, often causing real damage to personal confidence and happiness. In scientific terms, a micropenis is one that's under 3 inches (about 8 cm) when fully erect – about 2.2 inches below the average. Micropenis is typically caused by a complicated set of issues around birth, both hormonal and environmental, making the condition very difficult to treat.
Because of the huge number of requests we've had, we've been working for the last year to create a penis pump that really works for those affected by micropenis. Because our other hydropumps were designed for larger users, those with micropenis weren't achieving the full pressure – and missing out on the best possible results. We've designed our new micropenis pumps to be absolutely perfect for anyone with the condition, using a smaller chamber to maximise vacuum pressure.
Not sure what that means?
The Science of Bathmate
Bathmate pumps are scientifically pretty simple. Used in warm water (ideally the shower or bath), Bathmate creates a vacuum around the penis. This vacuum pulls in blood, giving you an erection. After that, you'll find your erection getting harder (and bigger) than ever, with more blood being pulled in. Over time, this exercise expands the tissue of the penis. This expansion means that you'll see a genuine increase to your penis size, erect and flaccid.
Using a Bathmate for just 15 minutes a day (in three 5-minute sessions), you'll quickly achieve real results, with the vast majority of users reporting real size gains. Most people see temporary gains after their first session, while longer-lasting gains take a while longer to develop.
While the size gains are the most important thing about Bathmate for many of our customers, they're not the only advantage. After using a Bathmate pump, your erections will be harder, as well as bigger, while around 80% of users report a noticeable improvement for their personal confidence and sex life. Ready to make a real, lasting change for your sex life?
Micropenis Pump Collection
To give you maximum results, we've designed two kinds of micropenis pump. These aren't just the first micropenis pumps on the market: they're the best you'll ever find. Bathmate is the world's number 1 penis pump maker, because there's absolutely no other pump that comes close to delivering the results we do.
Hydromax3: The Hydromax series is the world's most popular kind of penis pump, with over 1 million sold worldwide, and an incredible 92% satisfied. Powerful and easy to use, Hydromax3 quickly builds real, lasting size gains with a regular routine.
HydroXtreme3: If you're looking for the best possible results, you've found the right choice. Using a convenient handball, HydroXtreme3 makes it easier than ever to achieve the maximum safe level of pump pressure. Just get set up, and use the handball to generate an ultra-powerful vacuum, and you'll be ready to build real size.
Whichever model you choose, you can be sure of one thing – results. Bathmate is about real gains, so we absolutely guarantee that you're going to be satisfied with your pump. For 60 days after purchase, you'll have the option to claim a complete refund for your pump if you're not satisfied, no questions asked. With most users reporting noticeable gains within the first month, you're going to have more than enough time to experience the real power of Bathmate pumps – hope you're ready to make a real difference.
What's next?
Our micropenis collection isn't the only new launch we've got for October. Right now, we're taking our Bathmate Pleasure collection in a completely new direction! Bathmate Pleasure is our latest brand, and it's all about pleasure (as the name might suggest). At Bathmate Pleasure, you'll find our full selection of sex toys, including cock rings, anal plugs, and our totally new Prostate Vibe. If you're looking for an exciting way to spice up your sex life, head on over to the Bathmate Pleasure site today!
While we're at Erofame, we're going to be interviewing adult stars, fans and the creators behind the world's greatest sex toys. Is there any question you've always had about the adult industry? Let us know, and we'll get you the answer! Get in touch over on Twitter and let us know what questions you've got!