At the 2018 EroFame (the largest convention for the erotic industry), we picked up some major awards, launched some exciting, brand new products – and asked industry professionals some of your questions from social media. Take a look back at some of the biggest changes we've made recently, and find out what's coming next.
One of the biggest events in the Bathmate calendar is the EroFame show, by far the world's largest convention for the erotic industry. Our team's just made it back (and recovered) from another great year at EroFame, where we've had a great time catching up with friends and fans, meeting some powerful new people, and getting a whole lot done.
As you might guess, there's a lot of questions people have about what it's really like working in the erotic industry. Leading up to EroFame, we asked you what you'd like to know about the trade, and got some fantastic questions.
We took some time to travel round the show to get some answers – take a look at the video below to find out the real facts about the rise of sex robots, VR porn, the most unusual sex toys around, and a whole lot more:
Brand New Bathmate Options
If you take a close look at the video, you might see one of the brand-new products we showed off for the very first time at EroFame – we've launched a couple of exciting new inventions, with another special surprise (and maybe more) to come in the very near future:
HydroXtreme7 Wide Boy – Girthy users can have a hard time finding the perfect penis pump. Now that we've added a new model to our Wide Boy range, users with a girth over 6.5 inches can easily maximise the pressure in their hydropump for real, powerful results.
Anal Toy Cleaner – Hygiene's really important for sex, particularly when it comes to toys used anally. We've just launched the first ever cleaner specifically designed for anal toys, adding a new level of convenience and cleanliness. Our cleaner is also available in Anal Toy Wipe format.
While we can't say too much more about our third release until launch date, you can be sure that it's going to shake things up – watch this space (or head over to Bathmate Twitter) to be one of the very first to hear about our powerful new creation, and take part in our excellent giveaways and competitions!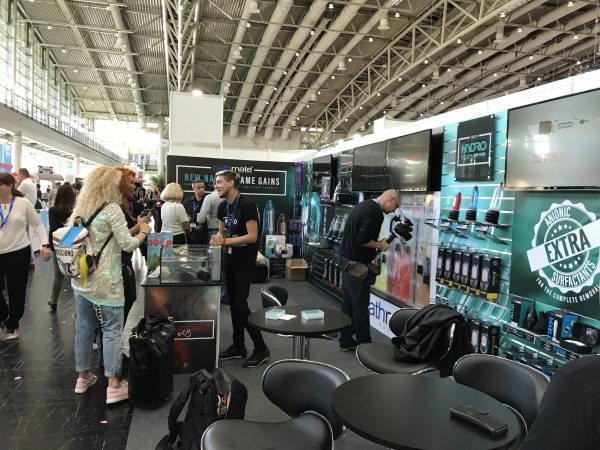 The Best of EroFame 2018
With EroFame bringing in creators, fans and stars from around the world, there's always a whole lot going on, including some of the biggest awards ceremonies for the adult industry, highlighting the very best around. We've picked up a whole lot of awards at EroFame over the years, and we're proud to have added two more to our trophy case this year – Most Iconic Male Company and Best Male Enhancement Product.
Of course, EroFame isn't the only thing taking place in Germany in early October, with the organisers being kind enough to make sure the show's at the same time as Oktoberfest – another great way to catch up with some of the fantastic people from EroFame.
What's coming up next for Bathmate? We believe in making products for everyone, so we're very excited to be an official sponsor of this year's Las Vegas Pride, coming up in just over a week's time!