How Can Diabetes Affect Your Performance in the Bedroom?
The 11th June 2018 sees the start of Men's Health Week for 2018. For those who haven't heard of this particular event, Men's Health Week is an international awareness week (usually celebrated around Fathers Day) which focuses on raising awareness of the health issues facing men. Previous years have focused on issues such as prostate cancer and abdominal obesity, whilst this week, the main focus of Men's Health Week is diabetes.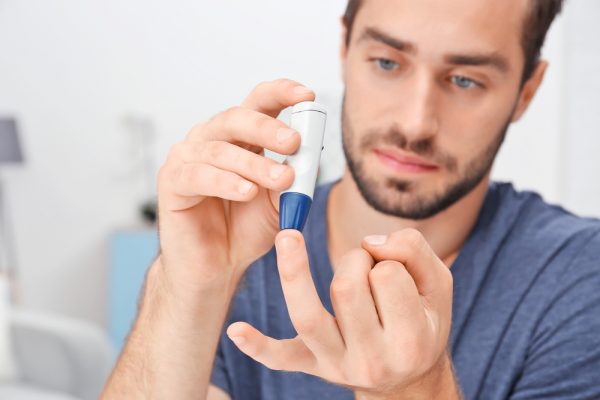 What is Diabetes?
Diabetes is a serious condition in which blood glucose levels are too high. There are a number of different types of diabetes, but the main types are Type 1 and Type 2.
The different types of diabetes all have one thing in common. They cause people to have too much glucose in their bloodstream. Glucose comes from the food we eat and the fluids that we drink.
Our bodies break down the carbohydrates as it is released into our bloodstream, and this is what gives us the energy to move around. To help break down the carbohydrates, we need a hormone called insulin which is made by our pancreas. For those who don't have diabetes, the pancreas senses when glucose has entered the bloodstream and releases the right amount of insulin to break down the glucose. However, for those who do have diabetes, this system doesn't work properly and too much glucose begins to build up in your blood which can cause a number of health problems.
Who can be affected by diabetes?
Those who have Type 1 diabetes, are unable to make any insulin at all and must take daily insulin injections to survive. This form of diabetes usually develops in children or young adults, but can occur at any age.
Type 2 diabetes occurs when the body doesn't produce enough insulin or is unable to use insulin properly. This form of diabetes is very common and usually occurs in people who are over 40, overweight, and have a family history of diabetes. However, this type of diabetes is becoming increasingly common in younger people.
What are the symptoms of diabetes?
The warning signs of diabetes may include:
• Increased thirst.
• Increased hunger (especially after eating)
• Dry mouth.
• Frequent urination or urine infections.
• Unexplained weight loss (even though you are eating and feel hungry)
• Fatigue (weak, tired feeling)
• Blurred vision.
• Headaches.
You're more at risk of developing type 2 diabetes if you:
• Are over the age of 40, or 25 for south Asian people.
• Have a close relative with diabetes.
• Are overweight, or obese.
• Are of south Asian, Chinese, African Caribbean or black African origin.
Can diabetes affect your sex life?
Those who are diagnosed with diabetes may find that the condition impacts on lots of different areas of their lives, some more seriously than others. That's why raising awareness of diabetes is so important during Men's Health Week. For the team at Bathmate, we wanted to raise awareness of the types and symptoms of diabetes, but highlight the effect that this condition can have on the sex lives of the men who have it. Particularly, as this is a topic that is rarely discussed, and one that many men feel too embarrassed to discuss with their GP.
Erectile dysfunction, which is an inability to obtain or maintain an erection, is a common problem amongst men who have diabetes. According to research, up to 75% of men suffering from diabetes will experience some degree of erectile dysfunction during their lifetime. Not only that, men who have diabetes are also thought to develop erectile dysfunction between 10 and 15 years earlier than someone who does not have diabetes. Over the age of 70, experts claim that there is a 95% developing erectile dysfunction amongst those with diabetes.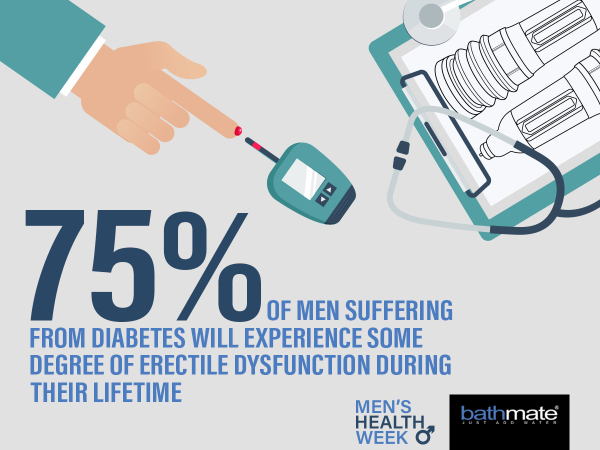 At Bathmate, we have an incredible range of products aimed at helping our customers to achieve and maintain an erection. For those who suffer from diabetes, using pills to obtain an erection isn't always an option due to concerns about conflicting effects of medication on the body. Therefore, we prefer to offer methods of combating erectile dysfunction that are more natural, and better suited to those who prefer not to take tablets.
In order to achieve an erection, the brain needs to send sexual arousal signals to the two spongy chambers contained within the penis, called the corpora cavernosa. Once the arousal signals are received, the chambers increase in size and volume to achieve an erection. In diabetics, poorly controlled blood sugar levels can damage the blood vessels and impair a man's ability to achieve an erection. Reduced blood flow from damaged blood vessels is another factor that contributes to erectile dysfunction amongst those with diabetes.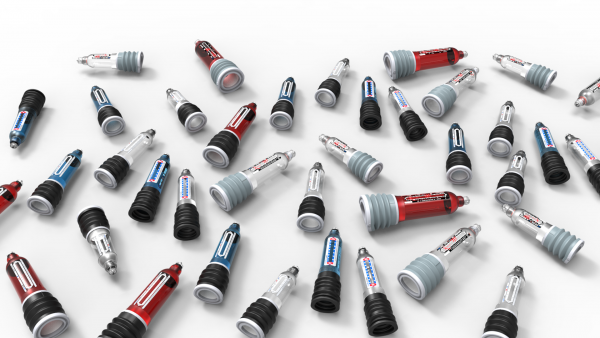 A hydro penis pump, like the Bathmate Hydromax X-Series uses water pressure to draw blood into the penis and may enable the user to achieve an erection naturally. The cylinder is placed over the shaft of the penis, and gently pumped to create a vacuum and engorge the penis. Once the user is satisfied with the size and strength of their erection, slipping into a cock ring such as the Vibe Rings to ensures that the erection remains strong and longer lasting. Not only that, a vibrating cock ring offers a range of different sensations to increase stimulation and improve the duration and intensity of orgasm for men. For best results, we highly recommend combining your vibrating cock ring with a water-based lubricant, such as the Pleasure lube.
Raising awareness of Men's Health Week 2018
Joining us in our fight to raise awareness of the sexual issues faced by men with diabetes is very easy. Take a look at the Men's Health Week website and read the reports about the male diabetes crisis, or download a copy of the 35 page booklet which contains everything that men need to know about diabetes. For those who want to join us in raising awareness, please feel free to share this article and use the hashtags #menshealthweek and #talkaboutdiabetes in your social media posts.