Get Pumped for Black Friday
Ready for a completely unmatched Black Friday deal? We've got a fantastic, one-time-only offer for our hydropumps – take a look through to find out just how much you can save today.
Black Friday's just about here, so we've put together a limited-time, completely exclusive offer for our blog readers! Up until Cyber Monday, if you buy one of our original series hydropumps, just use the code found in the link below, and we'll throw in any two of our Vibe Rings, completely free of charge, giving you a powerful, fun way to add a completely new dimension to your sex life.
Interested in saving with our one-time-only offer? Head through to our Bathmate Black Friday page to find your perfect pump, or read on to find out a bit more about what our deal means for you.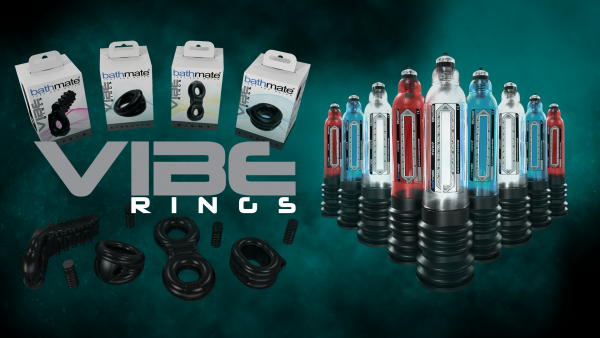 While we started off with just one model of Bathmate hydropump, we've since upped our collection to 10 fantastic pump styles, each designed to perfectly suit a different kind of user. To make it easier for our customers to find their perfect fit, we recently renamed all of our pumps – but we've still got quite a few of our original models in stock.
Our original hydropumps provide just as much power, performance, safety and real gains as our renamed models. The only difference is the packaging – and the free gift you'll get when you choose one of our original models this Black Friday.
We sell three ranges of Bathmate penis pumps – our Bathmate Hercules (now known as Hydro7) was the world's first hydropump, making for a perfect start to a pump workout routine.
For a more powerful session (and even better size gains), our X-Series (now the Hydromax range) adds 35% more power, with an incredible 92% of users satisfied with their results. Definitely our most popular range, our X-Series/ Hydromax pumps have sold over 1 million models to date.
If you're looking for completely maximised results, head on through to our Xtreme Series of hydropumps. Built using a convenient handball system, the Xtreme Series/ HydroXtreme makes it easier than ever to achieve maximum power – and maximum results.
While our hydropumps are designed to improve size and personal confidence, our [Vibe Rings] were built for pleasure. Coming in 4 totally different styles, these cock rings significantly improve erectile quality and lasting power, with a flexible design making them easy and safe to use.
Along with the ring itself, each Vibe Ring includes a USB-rechargeable, ultra-powerful vibrator, combining with the 4 special ring designed to create an unforgettable sensation. Through our ring range, you'll find ideal choices for couples, powerful options for solo play, and some designs that you won't see anywhere else.
Head on through to our Black Friday Deals page today, and get ready to maximise your gains and pleasure with this one-time-only offer!