Maddie Duke and Tim Brown are both at the Adultex show in Port Douglas Australia, Maddie travels back to Australia for the first time since joining bathmate, Maddie said "I'm delighted to be back home and see family and friends and the new Bathmate 10 speed waterproof bullets are proving to be a big hit"
Tim recently completed an interview with Ean magazine regarding the launch of the new bullets his thoughts are interesting and incisive as always, details of the interview are below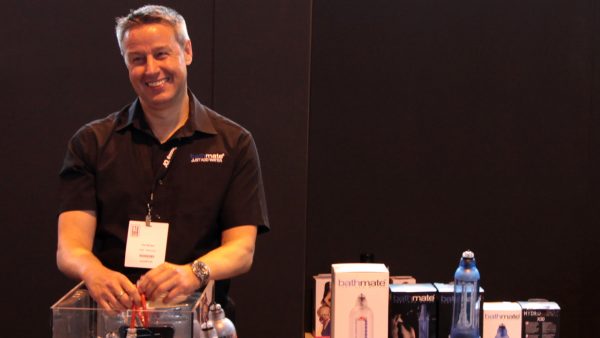 Bathmate is known primarily for penis pumps, but with your latest product, Bathmate Vibe, you are taking a step outside of that product category. What inspired you to branch out like that?
The simple answer is consumer demand, bathmate are a really strong male brand, every show I attend I'm always asked when we will bring out a female product, all the bricks and mortor female staff want a bathmate female product, so it's time we gave the market what the market is asking for
Can you give us a few details about the features of Bathmate Vibe? How is it different from comparable products?
Bathmates new Vibe is the latest generation bullet with 10 speed multi – pattern programs.
The new Bathmate Vibe is USB rechargeable, and comes with a 1 year peace of mind warranty.
Another big advantage of the Bathmate Vibe is that it is water proof, with an IPX 7 Waterproof rating, we believe there is no other bullet for sale on the market at this time with the IPX7 rating
The bathmate vibe gives the user the advantage of combining 2 natural therapies:
Hydro therapy and vibration therapy. The benefits are:
Relaxes muscles and increases orgasm
Increases the 'feel-good' hormones serotonin and dopamine. The release of these hormones also reduces depression and anxiety
Gives a pleasant tingling sensation due to stimulation of sensory nerves
Increases blood and lymphatic flow. As a result, nutrients in the blood are more easily brought to the muscles and tissues.
Increases lymphatic circulation / helps get rid of toxins.
Vibration and Hydro Therapy, when combined causes your body to release encephalin, and other pain-reducing neurochemicals. It is recommended as a method of pain relief and relaxation.
Improves your sleep as your muscle will be more relaxed.
Some people might argue that a bullet vibe is nothing new and that there are countless comparable products under the sun. Why did you decide to take a classic of the adult market and breathe new life into it?
I completely agree with your statement, yes I agree, but the bathmate vibe is the start of the journey and not the end, let me explain further, we have several other products designed to work in conjunction with the Vibe, some of them are female and some of them are male, I've tried the prototypes of the male ones and wow, just wow we are really on to something, something new something exciting and something very stimulating….the first of the male products will be launched at Erofame this year and it will blow everyone's socks off.
The female products are almost ready and initial feedback from our consultation groups indicate we have developed new products that provide earth shattering orgasms, the first of these new female products hopefully will be available for launch in ANME 2019
So the Vibe is the start of this fantastic journey…..